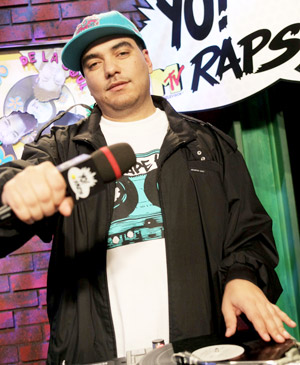 Cipha Sounds, who is Puerto Rican, is back on the air after a quick suspension.
Cipha Sounds, the DJ who inflamed the New York Haitian community after an on-air statement about Haitian women and HIV, is back on HOT 97 after a brief suspension.
"He lost family members to HIV," said Ebro Darden, vice president of programming for Emmis New York, which runs HOT 97. "So it's close home for him ... Obviously he's a comedian, so he made a stupid joke."
The station, meanwhile, is working to make amends. On Monday, former Manhattan Borough President C. Virginia Fields appeared on a morning show to talk about HIV. On Wednesday, the station will run a segment about women in Haiti after the earthquake. And HOT 97 will send a music truck to Wednesday's Haiti earthquake anniversary rally in Manhattan, which is sponsored by Diaspora Community Services and Housing Works, two of several community groups that denounced the DJ's actions in December.
For now, Carine Jocelyn, executive director at Diaspora Community Services, which aids the Haitian immigrant community, is satisfied with the station's response. "I believe Cipha has learned an important message about the power of words," she said. "And he can use his talent in the future for more productive dialogue."
In the long-term, HOT 97 is working to develop an HIV-education program similar to BET's Rap-It-Up campaign, said Darden. The details of the project -- whether it will involve an informational section on the site or radio education spots, for example -- are still unclear. "We have yet to iron out exactly what we want young people to do who are listening," he said. "Our job is to do more than just preach to them."
In late December, Cipha Sounds, whose real name is Luis Diaz, announced on his morning show that "the reason I'm HIV negative is because I don't mess with Haitian girls." In response, a number of politicians and community groups called for Emmis Communications to fire him.
HOT 97, which relies heavily on an ethnically Caribbean audience, is familiar with controversy. In 2004, DJ Tasha Nicole Jones called Asian tsunami victims "screaming chinks and chinamen" during on-air song. A year later, she launched a lengthy rant against the local Transit Workers Union, calling employees "undereducated, overpaid failures" and the union's president a "dumb coconut who probably doesn't have a green card."
Her punishment was more severe than Cipha's. HOT 97 eventually fired her.