Helping Individual Prostitutes Survive: On the Van -- Part Two
By Candace Y.A. Montague

December 28, 2010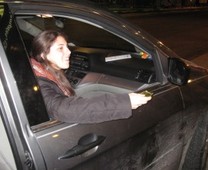 HIPS volunteer Meredith Zoltick offers "tools" and emotional support for sex workers. Photo: DC HIV/AIDS Examiner.
Part two of this series explains what happened on the van the rest of the night.

There are some triggers that let the outreach workers know that people are working the streets. It's more than just being "on the stroll" or wearing skimpy clothes. It's looking into cars to make eye contact with the drivers. It's being out at a certain time during the night when nothing else is happening. It's standing around for too long in one spot (particularly on a night like this one where the temperature is well below freezing).
2:46 am Mike pulls over for two black women walking down the street. One is scantly dressed with a very short mini-skirt and lace stockings. The other is wearing pants and a heavy coat. They immediately recognized HIPS and stopped to chat. "They're cool. Outstanding. And just a damn blessing," explains one of them with enthusiasm.
2:53 am A black female is excited to see the van as she meets it at the curb near a Metro stop. Her face presents a motherly appearance. "Hey! HIPS is here." She puts in her request for Magnums, flavored lube and regular condoms. "HIPS is great!" she cheered when asked what she thought about the organization. Meredith presented her with information about the International Day to End Violence Against Sex Workers, which she promised to read later.
Sex workers can make anywhere from $500 to $1,500 dollars a night and more if they choose. Working at a minimum wage job will render $7.25 an hour. Working on a wait staff that gets tips will bring in at minimum $2.13 an hour. "It's hard to find work and people need to survive. It's an economic choice," states Jenna during the drive.
Advertisement
3:07 am A transgender woman recognized the HIPS sign in the car window. She asked for a mixed bag. She said that she had a date waiting for her but offered this statement regarding HIPS and the work that they do. "HIPS helps us by saving our lives. They give us what we need cause these things are expensive. They help us, help us. Does that make sense?" Meredith quickly adds that she is saving her own life by accepting the help. To take condoms and use them in their line of work is an empowering experience. It helps the worker maintain control.
3:31 am Three older black men are standing by an abandoned building talking. They seem patriarchal and any other drivers would assume that they are drug addicts or homeless alcoholics. Since they could possibly be sex workers, Mike pulls over to the curb. Meredith goes into her introduction of offering candy, hot chocolate, condoms, or water. They accept the hot chocolate and condoms. The jovial trio quietly retreat back to their spot one by one. They are grateful for the condoms.
5:01 am At the border of DC and Prince George's County, a transgender female stops to talk to Meredith in the hot seat. Less than two minutes into the conversation, a Prince George's County police car pulls up behind the HIPS van. One officer approaches the female and demands for her to interlock her fingers behind her head. She tried to explain what she was doing (just talking to Meredith) when he barked a reply "Do you know who you're talking to?" She gets frisked while the other officer asked Mike about what he and the volunteers are doing. Mike explained that they are from HIPS and that they are just passing out condoms and information. The officer interrupts "I don't know what a HIP is." As he looks in the back at the tubs of condoms and lube with his flashlight he yelps, "You're encouraging this? You're making it easier and condoning. I don't appreciate you giving them the tools to make their jobs easier." While the officer on the sidewalk orders the female to go across the street to the DC side and not come back, the roadside officer requested everyone's identification. Meredith made a request of her own. "Can we have your badge number?" He blows off her request and walks away. He comes back to the van eight minutes later, returns the identification cards and snapped his badge number. "Is that good enough for you?"
In part three, the DC HIV/AIDS Examiner talks to Executive Director Cyndee Clay to get an inside look at how and why HIPS continues to help the 'shunned' community of sex workers.
To read part one, click here.
Recommended reading: International Day to End Violence Against Sex Workers.
Get e-mail notifications every time Candace's blog is updated.
---
| | |
| --- | --- |
| No comments have been made. | |
Add Your Comment:
(Please note: Your name and comment will be public, and may even show up in
Internet search results. Be careful when providing personal information! Before
adding your comment, please
read TheBody.com's Comment Policy
.)