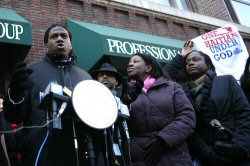 Councilman Jumaane Williams is among those calling for punitive action to be taken against DJ Cipha Sounds.
A coalition of Haitian community groups, AIDS activists and politicians are calling for the immediate termination of HOT 97 DJ Luis Diaz following a disparaging radio statement he made about Haitian women on Friday.
"Use your airwaves to educate, not denigrate," said New York State Committeewoman Rodneyse Bichotte, at a press conference outside HOT 97's studio this morning. At least 40 people gathered outside the West Village building, many waving Haitian flags and signs that read "Hot 97 is about racism for ratings."
Besides calling for Diaz's removal, the Haitian community is suggesting HOT 97 could apologize by creating or donating to a community program. Carine Jocelyn, executive director at Diaspora Community Services, is asking the station to start an HIV education program aimed at its mostly young, minority listeners.
Advertisement
On Friday's morning show, Diaz, known as "Cipha Sounds," announced "the reason I'm HIV negative is because I don't mess with Haitian girls." He later issued an apology via YouTube, in which he described the statement as a "joke." The comment ignited members of the New York Haitian community, which was linked to HIV in the 1980s when researchers suggested the virus may have come to the U.S. from the Caribbean nation. While that was debunked in a 1993 book by anthropologist Paul Farmer, stigma against Haitians as HIV-carriers continues.
Among those who came out to call for Diaz's removal were Manhattan Borough President Scott Stringer, New York State Senator Eric Adams, City Councilman Mathieu Eugene, Brooklyn Deputy Borough President Yvonne Graham, and Manhattan Deputy Borough President Rose Pierre-Louis.
Several individuals at the conference said they remembered a time in the 1980s and 1990s when they wouldn't admit they were Haitian -- or use Haitian-sounding names -- because they knew they'd be ostracized or physically abused.
HOT 97 has not issued a statement about the comment, and the station's parent company, Emmis Communications, did not respond to an e-mail asking if it had plans to take punitive action. The Haitian groups and their allies will meet Wednesday to plan further action against the station.
City Councilman Jumaane Williams, whose Brooklyn district is home to one of the largest Haitian populations outside Miami, asked the radio station to take action -- or threatened to tune out altogether.
"We have options in New York City," he said. "And we can just take our business to another station."