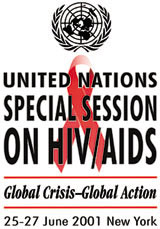 "We must make people everywhere understand that the AIDS crisis is not over; that this is not about a few foreign countries, far away. This is a threat to an entire generation; this is a threat to an entire civilization....
The General Assembly special session will provide us with an occasion as never before to face up to our responsibility to future generations, and take decisive action now to turn back the progress of this terrible disease."
United Nations Secretary-General Kofi Annan
Background Information
Why a Special Session?
Advertisement
Alarmed by the accelerating epidemic and its global impact, the United Nations General Assembly has decided to convene a special session on HIV/AIDS at the highest political level. To be held from 25 to 27 June 2001 in New York, the special session will aim to intensify international action to fight the epidemic and to mobilize the resources needed.
"The evidence demonstrates that we are not powerless against this epidemic, but our response is still at a fraction of what it needs to be," said Dr. Peter Piot, Executive Director of the Joint United Nations Programme on HIV/AIDS (UNAIDS) in a June 2000 status report. "The real task now," he added, "is to increase, massively, the political will, resources, systems and social commitment needed to turn the tide of the epidemic."
At the special session, high-level national delegations will discuss what action plans have proven most effective in addressing the AIDS situation in their own countries and what next steps are needed. Interactive round-tables will bring together government leaders, AIDS activists and experts and private sector partners to focus on key issues.
What Will the Outcome Be?
Given the urgency of the epidemic, at the special session governments are expected to agree on a Declaration of Commitment that will outline priority areas where stronger action must be taken. These are likely to include prevention, improved access to care and treatment, care of children orphaned by AIDS, expanded public/private sector partnerships, the need for an accelerated multisectoral response to the epidemic and for resources commensurate with the crisis.
The special session is also expected to set a number of concrete targets for action to fight HIV/AIDS, building on goals adopted at previous United Nations forums. These include the target agreed by some 150 heads of State and Government at the UN Millennium Summit in September 2000, to halt and begin to reverse the spread of HIV/AIDS by 2015.
The Declaration of Commitment will be developed through open-ended informal consultations to be convened in early 2001 by the President of the General Assembly, Mr. Harri Holkeri of Finland. A report by the United Nations Secretary-General will set the stage for the consultations by making recommendations for how to secure a global political commitment for greater efforts at the national, regional and international levels.
Timeline for 2001
26 February to 2 March -- First round of open-ended informal consultations for the special session (New York) 21 to 25 May -- Second round of open-ended informal consultations (New York) 25 to 27 June -- Special session of the General Assembly on HIV/AIDS (New York)
Participation by NGOs and Private Sector
Recognizing the key role played by activists, people living with HIV/AIDS, experts and business leaders in the fight against AIDS, the United Nations is planning ways to involve civil society in the special session and its preparations. The UNAIDS Secretariat will coordinate such participation through its ongoing network of partners. Electronic forums on the UNAIDS and other web sites will enable non-governmental organizations and other partners to have input into the negotiations for the special session. A concerted effort will be made to involve young people, whose future is at stake.