Fighting the "Holiday Blues"
December 11, 2013
This article originally appeared in ScotCharles' blog on Dec. 16, 2010.
My mother died on Christmas Eve eight years ago. My partner and I had been in the south of France for a month so that I could work on the language requirement for my master's degree from the University of Edinburgh. After the end of that month, we took the train to Paris to spend Christmas and New Year's. I had not checked my e-mail for a month so I walked down to an internet café to catch up. As I read my e-mails, I was horrified to read a series of e-mails that said my mother was in the hospital, that she was getting worse, and then that she had died. I rushed back to the hotel to call my sister on her mobile to find out the funeral plans for my mom. My sister said the funeral was the next day in Orlando, Florida. I told her it was not possible for me to get from Paris to Orlando in time for the funeral and asked her to delay the funeral for a few days. My sister said a delay was impossible as the plans were too far advanced and calls had been made for the family to attend. I asked my sis to give my regrets to the family and we hung up. Later that same day, my partner and I visited Chartres Cathedral where I lit a candle for my mom and said a Rosary for the repose of her soul. My sister and my family have never forgiven me for not attending my mom's funeral and we have not spoken since.
My partner has no living relatives. For him, Christmas has always been a sad time. However, until my family alienated me during that Christmas season eight years ago, we had my family as a substitute for his, which helped to cheer him. Since that Christmas eight years ago, the Holiday season has become a sad time for the both of us.
The media paints the Holidays as a happy time to be spent with friends and families. We are bombarded with ads that exhort us to gleefully spend money on gifts for "everyone on our list." I think we are driven by all this hype to ask too much of the Holidays. If our experience of this season doesn't match what we see on television, we can feel disconnected from the near manic happiness all about us, and come down with the Holiday Blues. The bleak weather at this time of year adds to the Blues.
For many people with HIV/AIDS this season can be especially bad. We can be separated by our friends and families by distance or their refusal to accept our lifestyle or HIV status. If we haven't come out to our friends or families or told them we have HIV/AIDS, we can be forced to play pronoun games about the important people in our lives or have to be cheerful even if we are working through a recent HIV/AIDS diagnosis. For many, this time of year brings back memories of the friends we have lost due to AIDS. I for one no longer have any gay male friends from my 20s and 30s left alive. The virus itself makes us prone to depression, which gets worse during the holidays. This year, so many people are out of work or worried about losing their jobs that can only add to the burden of the Holiday Blues.
My partner and I have discovered a few ways to battle the Holiday Blues, which we hope can help you.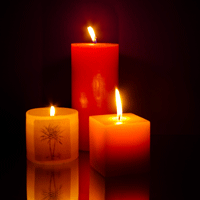 Bake cookies or other goodies for the special people in your life, even if all those special people are doctors and nurses. If you aren't a good cook, you can buy sugar cookie dough at the grocery store, roll out the shapes with a tall slender bottle filled with water, and cut out shapes with a small knife.
If you find yourself eating alone during the Holidays, make an extra plate for a homeless person in your neighborhood.
Grow some Narcissus or an Amaryllis in a sunny window to remind you that the dark days of winter will soon be over.
Call your local Post Office to find out where letters to Santa Claus go. In this time of need, the letters are especially heart wrenching. Choose a letter to answer and brighten the Season for a family in need.
Make new friends using the techniques in Dale Carnegie's How to Win Friends and Influence People. The technique is really simple. Most of us spend the majority of our time with other people talking about ourselves. Carnegie writes that instead we should listen empathetically to people. Listening without judging or offering advice is hard at first, but with practice you can get better.
Adopt a pet from the animal shelter. Rescue animals are so grateful that you have saved them and make great pets. The animal shelters are full of dogs and cats whose owners have been forced by bad economic times to abandon them.
Take a long walk. Learn to enhance your walk by reading Walking Meditation by Thich Nhat Hanh.
Buy a live tree to decorate and then plant it after the holidays in that ugly vacant lot in your neighborhood.
Read a long book. Marcel Proust wrote in Remembrance of Times Past that when he spent long hours reading he had a feeling of peace and connectedness. Could it be that this is the year you finally read War and Peace?
Make the holidays a time when you won't watch television, listen to the radio, or read. In The Artist's Way, Julia Cameron wrote that we can unleash our creativity if we remove distractions like the media. You can buy some crayons and color if nothing else or you can write a hundred pages on your life to date. With glue, scissors, a scrap of cardboard, and a stack of magazines, you can make collages. Learn to let your creativity flow.
Feed the birds.
Make a Holiday Boil by putting two cinnamon sticks, a handful each of cloves and allspice berries, the peel of an orange and a lemon in a tea kettle or a pot filled with water over low heat on your stove. The scent is the essence of the Holidays.
Boil a chicken and then make a sauce by adding for every two cups of the stock left from boiling the chicken a roux made of three tablespoons of flour and two tablespoons of oil or butter stirred over a medium heat for two minutes. Cook the sauce over medium low heat, stirring occasionally, until the sauce coats the back of a spoon. You can check the sauce by drawing your finger down the spoon. If your finger leaves a clean line, the sauce is thick enough. Can there be any smell more comforting than the smell of a chicken boiling on the stove?
Reconnect to people you haven't talked to in a while. You may be surprised how glad they are to hear from you.
Take a trip, many destinations offer special rates during the holidays, especially between Thanksgiving and Christmas, and between Christmas and New Years. My partner and I went to Paris for many years and stayed in the Hotel Regina across from the Louvre. We had an attic room with views of the Eiffel Tower and the Tuilleries Gardens which would cost a fortune at any other time of the year but was less than 100 dollars. You will find the museums are less crowded and you can easily get a table at a good restaurant. While on the trip, you will meet many other people who travel exclusively during the Holidays to get the good rates and fewer crowds.
Don't drink too much. Alcohol is the fertilizer of depression during the holidays.
Buy your pet a present.
Talk to people. That person sitting alone at the table next to you may want to talk as much as you. Ask him if the dish he is eating is good. Learn the rules of talking to a group of people. If they are in an "O", that group is closed and you can't break in on them. If the group is in a "U" that group is open and you have a shot at breaking into the conversation. Start with something harmless like "X sure throws a nice party." Try not to come on too strong and practice empathetic listening. You may be surprised. If you are shut out, don't take it personally, and move on.
Take your meds.
If you have a partner, surprise him or her. I leave you to fill in the blanks.
I would love to hear how you fight the Holidays Blues.
Merry (Happy) Christmas and Happy (Merry) New Year's
Happy Chanukah
Happy Kwanzaa
Happy Winter Solstice
Happy Holidays,
ScotCharles
Related Stories
---

This article was provided by TheBody.
---
Comment by: Karan
(New Delhi, India) Mon., Dec. 12, 2016 at 5:41 am UTC
Treat yourself with a nice movie in theatre and then with your favourite cuisine outside...Have a positive attitude towards life...Spend time with those who makes you happy
...Visit Church or temple. Have faith and just Chill!
Comment by: james brooks
(Surprise, AZ) Thu., Jan. 2, 2014 at 6:46 am UTC
Scot, We have so many similarities.I am a long time survivor. an have also lost an entire generation of friends. My partner has no family and is alone too. My relationship with my sister changed drastically my when the family excluded me from my mothers funeral, at my oldest brothers request.He didn't want my partner to attend, so they didn't allow me enough time to travel and generally made logistics hard.It was not at Christmas, but I empathize with the emotional pain involved in your situation. This Christmas has been sad for us too. Your posting helped me so thank you for writing it. Somehow, I feel a little less alone with these emotions. I hope we both can heal.
Comment by: lala
(indianapolis IN) Mon., Dec. 23, 2013 at 8:46 pm UTC
Thank you love for your post for I am sure your list will brighten a few if not many of our usually lonely Christmas. It was one time my favorite time of the yea, now a days , not so much but with your great advise I'm sure my Christmases can be great once again. Happy Holidays to you and yours love.
Comment by: Sean
(Florida) Mon., Dec. 16, 2013 at 5:11 pm UTC
I was diagnosed with HIV on Christmas Eve in 2012. I was really sick in the hospital from 12/21 to 1/1. I rang in the New Years emotionally and physically drained in my own bed, on oxygen. The holidays have never been the same since.
Comment by: Stephen
(Edinburgh, Scotland) Fri., Dec. 24, 2010 at 7:34 am UTC
Charles, what a really positive contribution! Some excellent ideas in that list of yours, many of which I practise too. We're covered in snow here and if the sun is shining tomorrow, despite the freezing temperature, I'll be out there taking a walk and avoiding all the absolute rubbish that there is on TV. You know one of the most depressing things to do at this time of year is watch a lot of luvvies on tele showing off! You hear all that canned laughter that they siphoned into the soundtrack sometime earlier in the year when they made the programme and you sit there and you realise you're barely smiling and it's just NOT what it's cracked up to be and you're wasting your precious life! So like you I will be doing positive and fulfilling things, mostly walking, reading, playing the piano, and singing my heart out!
Comment by: Gabey
(Singapore) Fri., Dec. 24, 2010 at 12:44 am UTC
Great stuff, ScotCharles. I'm going thru a rough time myself being positive and having been out of a job for most of this year. I've also gone back to church as it gives me some hope & comfort. Thru my difficult moments, I've found many angels who've been kind & helpful. I hope you'll remain emotionally strong & maintain a positive outlook on life. There's a song with lyrics that go like this 'Smile, though your heart is breaking ......' Listening to that song has also helped me through some depressing moments when the tears just flow freely & everything seems so hopeless & bleak.
God bless you :)
Comment by: Rick
(North Carolina) Fri., Dec. 24, 2010 at 12:22 am UTC
Thanks for the great suggestions. I really like your comment about making a plate of food for a homeless person if you are eating alone. You sound like such a great person. Your family is really missing out on a great relationship by alienating you.
Comment by: Carol Ann
(San jose, CA) Thu., Dec. 23, 2010 at 3:33 pm UTC
Hi ScotCharles,
I could not have said it better. What a wonderful article you have written. It was an excellent reminder of what really counts in ones life. Thank you for your contribution. I wish you all the best.
Love,
Carol Ann
Add Your Comment:
(Please note: Your name and comment will be public, and may even show up in
Internet search results. Be careful when providing personal information! Before
adding your comment, please
read TheBody.com's Comment Policy
.)