1. Joel Gustave Nana: Fighting AIDS and Homophobia in Africa

Joel Gustave Nana
Joel Gustave Nana, a 28-year-old from Cameroon, has risen to international recognition as one of the leading advocates for human rights for lesbian, gay, bisexual and transgender (LGBT) people and people living with HIV in Africa. Recently, he was named the executive chair of African Men for Sexual Health and Rights (AMSHeR), an umbrella organization of 15 different LGBT/HIV organizations across sub-Saharan Africa.
AMSHeR formed in 2008 when a group of HIV advocates from Africa convened at the XVII International AIDS Conference in Mexico City. After many conversations about the issues LGBT Africans were facing, they decided there needed to be a wide effort to decriminalize homosexuality across the continent; gather HIV prevalence and incidence data on African men who have sex with men (MSM); and obtain significant funding for prevention and treatment.
Advertisement
This coalition could not have come together at a more critical time. Earlier this year, the Ugandan government (in a backlash against a 2009 court decision that sided on behalf of a Ugandan lesbian assaulted by police) embarked on a campaign to make gay sex a crime punishable by death. Through pressure from African and human rights activists around the world, the government backed down, but the Democratic Republic of the Congo recently decided to consider similar measures. Then there was the imprisonment of Tiwonge Chimbalanga and Steven Monjeza, a gay couple in Malawi who got married, were sentenced to 14 years in prison, and then later were pardoned.
Such severe homophobia makes it difficult for HIV/AIDS workers to do outreach, not only due to the stigma and fear of being policed because of it, but also because this hostility toward the LGBT community has forced members of the community to go underground, making it difficult to reach them.
Nana is trying to change that. This year alone, under Nana's direction, AMSHeR lobbied heavily against the Ugandan anti-homosexuality bill, and got 13 high-ranking officials from African governments and 39 civil society organizations to endorse a signed letter denouncing the bill; fought against the imprisonment of Chimbalanga and Monjeza; and began collecting a lot of the new research studies on HIV risk and African MSM from other sources and posting it on its own site to make the information more accessible.
While Nana admits that his work is nowhere near done, he is hopeful about the impact it could potentially have. "Should our voices be heard, and the barriers that stop MSM and transgender people from accessing HIV services addressed, we believe it will contribute immensely to curbing the epidemic not just in Africa but around the world," he says.
2. E. Tyler Crone, J.D., M.P.H.: Busting Up the Old Boy's Network in AIDS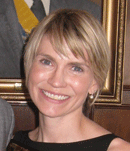 E. Tyler Crone, J.D., M.P.H.
Though women are half of the people infected with HIV globally, you wouldn't know that from many of the boardrooms where E. Tyler Crone, J.D., M.P.H., spends her time. Too many of those meetings about HIV policymaking are mostly made up of, and facilitated by, men.
That utterly frustrates Crone. As the coordinator of the ATHENA Network, an international organization for women living with HIV and female leaders, one of Crone's many responsibilities is trying to ensure that female voices are taken into account when HIV policy is being made. But that isn't an easy task, especially given that less than a quarter of the leadership of global AIDS-fighting organizations is female and only 8 percent -- of either gender -- is HIV positive.
This summer, the ATHENA Network and UNIFEM unveiled Transforming the National AIDS Response: Advancing Women's Leadership and Participation, a joint report that provides a clear assessment of the challenges women, particularly HIV-positive women, face in fully participating in HIV-related policymaking and leadership. By analyzing existing data and interviewing women from around the world, they discovered that:
Women face significant barriers to their participation ranging from gender norms, lack of access to information and low-self esteem.
Participation is treated as a privilege rather than as a right.
Sustained investment in women's mobilization, such as backing for HIV-positive female support groups, proves to be extremely successful in diverse regions and settings.
To address these findings, Crone and her colleagues suggested 10 recommendations, which include that policy makers reserve formal places for women to have a seat at the table; that female participation, especially that of the most vulnerable groups of women, is monitored and documented; that leadership training, sustained technical support and mentorship are provided to these female leaders; and that more funding be invested in organizations and initiatives that are led by, or that include, HIV-positive women.
Crone doesn't want to give off the impression that there are not currently women making an impact, because there are many. She just stresses that their voices are not heard enough, their work is underfunded and there is a huge danger in omitting their input. "Positive women are the knowledge brokers, and if they sit at the table at a decision-making forum, they can say how this decision affects communities who are living with or affected with HIV," Crone said. "They can see the blind spots of policies, attest to their shortcomings, and speak on unintended consequences that they live out because the policies don't take into account certain things."
We hope that Bill Gates and the other wealthy power brokers of the global fight against HIV are listening.