Prayer Breakfast Urges Participants to Combat HIV
By Candace Y.A. Montague

December 5, 2010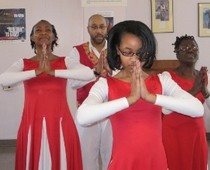 Liturgical dancers move bodies and souls. Photo: DC HIV/AIDS Examiner.
The Community Church of Washington DC recognized World AIDS Day with a prayer breakfast on Saturday morning. The breakfast, held at Howard University's School of Divinity, was a collaborative effort between Beloved Community Church, Bethel Christian Church of DC, City of Refuge DC, Covenant Baptist-UCC Conversation Center, Inner Light Ministry and Isreal Baptist Church to keep the faith community involved in fighting HIV. The breakfast offered songs, testimonials, scriptures and liturgical dance to create an atmosphere of hope and strength among those who are infected and affected by HIV. Community Church of Washington is a newly established church headed by Reverend Aaron Wade.
The theme was Churches on the frontline: Combating HIV/AIDS. Every song and testimony enforced that theme. Anna Folks, an HIV+ senior, explained that she contracted the virus from a childhood friend that she reconnected with in her fifties. He was separated and she was a widow. She said that she wasn't afraid of the test or results because of her faith in God. "I knew that He [God] wouldn't take me this far to leave me. So if you're infected, celebrate life." Raul Posas, media relations contact for Community Church, testified that he was discouraged by his diagnosis but has turned that around for the better. He concluded, "Stigma kills. Not AIDS." Reverend Robert Renix, associate minister from Covenant Baptist Church in Southwest, was the guest speaker. He is HIV positive and his husband of seven years is HIV negative. He based his address on the battle of Jericho as described in the Bible's book of Joshua. He stressed the importance of churches discussing diverse sexuality. "The church has been a silent brick in the wall surrounding AIDS. The discussion of sex must be a part of the conversation. To ignore it would allows us to remain at the rear of the war. We must be on the frontline."
The breakfast was supported by Blair Underwood Clinic and The Community Education Group which offered free HIV testing. Community Church of Washington hopes to continue the partnerships formed by the prayer breakfast over the next year and include more for World AIDS Day 2011.
To learn more about The Community Church of Washington DC, click here.
Recommended Reading
Faith leaders become 'One' against HIV
Condoms are tolerable with the Pope but fine with local clergy
Get tested. Get care. Get involved.
Get e-mail notifications every time Candace's blog is updated.
---
| | |
| --- | --- |
| No comments have been made. | |
Add Your Comment:
(Please note: Your name and comment will be public, and may even show up in
Internet search results. Be careful when providing personal information! Before
adding your comment, please
read TheBody.com's Comment Policy
.)