Home Is Life Rally Leaves a Message at the Wilson Building
By Candace Y.A. Montague

November 30, 2010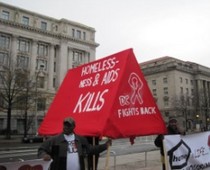 DC Fights Back demands housing to save lives. Photo: DC HIV/AIDS Examiner.
Undeterred by rain and a possible tornado, DC Fights Back and other AIDS activists took to Freedom Plaza Wednesday in a rally to remind Mayor-Elect Gray to keep to his promise and implement a solid, comprehensive strategy to address AIDS and to solve the reprehensible housing crisis in the District.
Since 2008 the group has been calling for a citywide plan to address AIDS in the city. The World AIDS Day rally called for housing every person with HIV/AIDS, the end of closing homeless shelters in DC, and accounting of the funds used in addressing HIV/AIDS and homelessness in Washington. "It's time to hold the city government accountable for the millions of dollars that was set aside for AIDS that has seemed to disappear over the years," says Christine Campbell, rally organizer.
Advertisement
Rally supporters were local community partners, people living with HIV, advocates and friends who are dissatisfied with the current administration's response to the epidemic and wanted to take action. Joining the crowd were approximately 200 supporters from
Act Up Philadelphia
who came to Freedom Plaza on a chartered bus ready to work. "Obama! I want you to help me," sang the members as they exited. They came in support of a cause all too familiar in their hometown. "We came to support them because they support us in Philly. Whenever we need some extra help, they're right there," says Jose DeMarco, member of Act Up Philadelphia.
The housing waiting list in the District, according to a press release from DC Fights Back, is over 1,000. The Fiscal Year 2010 Department of Health Performance Plan has a housing goal that calls for 11 fewer units of HIV/AIDS housing than what was available just two years ago.
Housing and a comprehensive AIDS plan are at the top of the list of demands from DC Fights Back. The group constructed a house for the rally and simulated what it is like to look for housing in DC. The skit exhibited how the number of people who seek housing outnumber those who already have it. It also showed how people who need housing most get turned away repeatedly by people who are supposed to help them.
People living with HIV/AIDS need housing to provide security and stability. Many studies have shown that people who have stable housing adhere to their medications more and lower their risk for getting infected with HIV. The housing structure was left at the doorstep of the Wilson Building, where the mayor and city council offices are, as a reminder about the severity of the crisis.
Attendees continued rallying to the White House. The crowd gathered on Pennsylvania Avenue for a mock funeral. The 'funeral' was a call for action from President Obama. DC Fights Back and allies criticized President Obama for failing to follow through with his promise to fully provide funding for AIDS. They pledged to return next year and every year until the crisis has been resolved.
For more information about DC Fights Back, click here.
Additional Reads
If you lived here: Housing and HIV: The Basics
What's Housing Got to Do With It?
Get e-mail notifications every time Candace's blog is updated.
---
Add Your Comment:
(Please note: Your name and comment will be public, and may even show up in
Internet search results. Be careful when providing personal information! Before
adding your comment, please
read TheBody.com's Comment Policy
.)