Mission Impossible: Tom Cruise and Sara
By Ibrahim

December 2, 2010
Sara who? No, I am not announcing the name of the chick who will be riding behind Tom Cruise on the motorbike in his coming movie. The issue simply is that a lot of my beloved friends here on TheBody.com have applauded me for doing what they see as a great mission! Therefore, I wanted to give that credit to those who really deserve it.
After all, I do live in the U.S. It's relatively safe for me to blog, talk and advocate. But I would like to talk about those heroes who still live in the Middle East, yet are working tirelessly to bring justice to HIV patients. They deserve credit more than I do -- they are the heroes of what some see as Mission Impossible.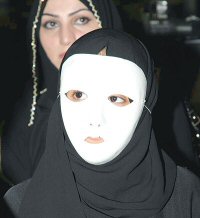 Courtesy of Al-Sharq Al-Awsat Newspaper
Nevertheless those advocates don't care if it's Mission Impossible, simply because the word "impossible" is missing from their dictionary. They are brave enough to engage in what could be the most stigmatizing issue in the Middle East, declaring themselves as "Al-AIDS" patients. Amongst the bravest of all, in my opinion, is Sara, who is known in Saudi Arabia as "Al-AIDS child." Sara represents an important voice for the most affected category when it comes to HIV in the Middle East: women.
Living in the U.S. makes us associate HIV with MSM; yet in the Middle East and especially in Saudi Arabia, it is not a "gay disease" as some Saudi straight men engage in sex tourism every summer. This with a deep lack of sexual education makes the perfect combo to get infected with HIV, which they bring home with them ... to their wives.
Of course testing is not common among Middle Easterners; after all, it's only required for foreigners to obtain a job and residency -- it's not our thing, right?!! Some guys tell me that they are terrified of the results of being tested; well, let me tell you the results of not getting tested: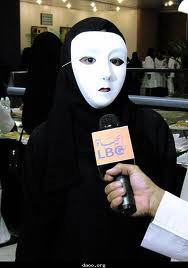 Courtesy of Al-Hayat Newspaper
In Saudi Arabia, for example, the person will progress to AIDS, then they die, leaving their pregnant wife infected and passing the virus and the stigma to their unborn child. Do you still think it's terrifying to get tested?
But Sara refused to submit to this tiny virus or to this huge stigma. She rebelled like an Arabian horse would do, when it is treated with disrespect, and kicked off to do Mission Impossible! Sara decided to become an advocate for people with HIV/AIDS in Saudi Arabia and the Middle East.
Cultural tip: In Saudi Arabia, women do not have to cover their faces always -- it's an option, and it's never required for young girls. But for Sara, she had to do it to be able to advocate for HIV patients without being further rejected by her society. She had the option of covering her face the traditional way, and she would be like everyone else; but she refused to wear the traditional cloth that covers her face and decided to wear a white mask so that people will know that she is not covering her face due to traditions, but due to fear of the HIV stigma that is killing people. Her white mask strikes everyone who sees it, just as she wants.
In one of her speeches, Sara said: I am not here to ask you to pity me; I just want you to treat me like a human being with respect. I don't want to be served food in disposable dishes anymore; I want to eat like all of you, because I am like all of you.
Later at a TV interview, when she was advocating for an event held by the Saudi AIDS committee, Sara was asked about her dreams. She said that she hopes to be a journalist to write more about HIV patients and especially women suffering from it. Well, God is good: The Chairman of Al-Watan Newspaper in Saudi Arabia heard her words and decided to ... APPOINT SARA AS A JOURNALIST AT THE AL-WATAN NEWSPAPER IMMEDIATELY! Hurray for Sara ... Hurray ... Hurray ... I wish I could see her face when she heard the happy news, but I can only hear her voice describing how happy she is to write her first report to the newspaper. She must have cried with happy tears, just like I did!
Now this Mission Impossible will not generate the same amount of money, the other Mission: Impossible generates.
Recently I just learned that Tom Cruise chose Dubai to be the new scene for the shooting of the film. This choice is supposed to make me happy -- after all, Dubai has a special place in my heart ... but I wonder if Tom Cruise has any HIV-positive persons among the film crew? Because he better be careful, as the law in UAE bans HIV-positive people from working and living in Dubai, and those intending to reside in Dubai or other UAE cities are forced to pass an HIV test and if proven positive, they are arrested and deported.
I wonder if these ethical issues did come up when the choice was made for Dubai to be the city where the events of Mission: Impossible will happen? And no, I am not a self-hating Arab. I love Dubai more than anyone can imagine. Dubai to me is not another Las Vegas: Dubai to me is the heritage and culture ... the children and family ... the values and compassion ... the wisdom you see in the eyes of old men ... the compassion in the stories of old women when they tell the children the tale of "Sari" -- the shepherd who got sick with a dermal sickness and his tribe decided to get him out and leave him in the desert to die alone before he passes the sickness to the rest; the tribe name was tarnished forever with disgrace for abandoning one of their own when he was sick. These were the stories that plant the compassion in the hearts of children to the sick -- and this is the face I wish to see for Dubai, not the image of the high skyscrapers built by immigrant workers who get deported because they test HIV positive.
Thank God, Obama revoked the ban on HIV-positive people from entering the U.S. Even though many advocates are still hoping for a more comprehensive legislation that is stronger in preventing discrimination on the basis of HIV status that still exists in the immigration system in the U.S., at least now we can ethically call upon Tom Cruise and others to stop shooting this film in Dubai until UAE stops targeting HIV-positive people -- and starts implementing a better policy in dealing with the cases of infected people. I say this with all the love that I hold in my heart to Dubai, UAE, the Middle East and its people.
Salam
Get e-mail notifications every time Ibrahim's blog is updated.
---
Add Your Comment:
(Please note: Your name and comment will be public, and may even show up in
Internet search results. Be careful when providing personal information! Before
adding your comment, please
read TheBody.com's Comment Policy
.)