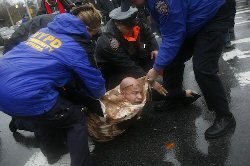 Police drag AIDS activist Johnny Guaylupo out of traffic on Flatbush Avenue.
Dec. 1, World AIDS Day -- Police arrested nine Housing Works AIDS activists wearing giant bagel costumes outside New York City Mayor Michael Bloomberg's annual World AIDS Day Bagel Breakfast at the Brooklyn Public Library this morning.
"Mayor Bloomberg's attitude to poor people with AIDS is 'Let them eat bagels!'" said Charles "Sesame" King, president and CEO of Housing Works Bagels' Schmear Campaign. "We bagels refuse to be implicated in the mayor's World AIDS Day Bagel Breakfast hypocrisy."
The activists chained themselves together and blocked traffic at Grand Army Plaza to draw attention to Bloomberg's relentless attacks on AIDS housing services for the poor. The brave bagels were cheered on by dozens of others, many wearing breakfast table costumes.
Watch the Arrests
AIDS activists are fed up with Bloomberg, who each December holds his World AIDS Day Bagel Breakfast, and then each January proposes devastating cuts to AIDS services, such as housing and nutrition, for low-income people with HIV. Most recently, Bloomberg was influential in convincing David Paterson to veto the 30 percent rent cap bill legislation which would have provided housing security to 10,000 low-income New Yorkers living with AIDS.
In 2008, despite a city budget surplus, Bloomberg forced City Council to enact a $6 million cut to AIDS services, including needle exchange and HIV prevention. In 2009, he proposed $10 million in cuts. More than $6 million were enacted, largely to AIDS housing.
And this year, he proposed crippling cuts to the HIV/AIDS Services Administration, the agency that oversees housing, nutrition and other benefits for 45,000 poor New Yorkers with AIDS and their families. A Housing Works lawsuit stopped him.
Read Additional Coverage
The New York Times City Room Blog 9, Some in Bagel Suits, Are Arrested at AIDS Protest
New York Magazine Activist Bagels Protest Bloomberg's Annual AIDS Breakfast
. It is a part of the publication
. Visit