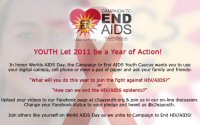 Click image to enlarge.
In honor of World AIDS Day, the Campaign to End AIDS Youth Caucus wants you to use your digital camera, cell phone or even a pad of paper and ask your family and friends:
"What will you do this year to join the fight against HIV/AIDS?"
or
"How can we end the HIV/AIDS epidemic?"
Upload your videos to our Facebook page at c2eayouth.org and join us in our online discussion. Change your Facebook status to your pledge and tweet us @c2eayouth.
You can also type your answers to these questions into the "Comments" area at the bottom of this article.
Join others like yourself on World AIDS Day as we unite to Campaign to End HIV/AIDS!
This article was provided by Campaign to End AIDS Youth Caucus.