Hold the Celebrations: Antiretroviral Drugs Not Promised to Prevent HIV
By Candace Y.A. Montague

November 28, 2010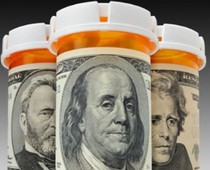 Prevention can be costly. Education is free. Photo: taf.org.
The news broke last week about the drug called Truvada, a blue pill that is a combination of two antiretroviral drugs, having shown to be effective in preventing the spread of HIV among men who have sex with men. It was presented in the New England Journal of Medicine and announced by the National Institutes of Health. The study found that if the pill is taken consistently (meaning 90% of the time) it can be up to 73% effective in the reduction in new HIV infections. This is the first medical breakthrough since the announcement of the vaginal gel Tenofovir at the International AIDS Conference in Vienna this summer. The Washington Post quoted Mitchell Warren, director of the AIDS advocacy group AVAC, as saying "This is a great day in the fight against AIDS. It's a result that requires immediate action." Before Mr. Warren runs amuck let's think about a couple of items.
First, do the math. Prevention this good doesn't come cheap. The pill would cost $5,000 to $14,000 a year. Using the lower end of that estimate, the cost per week for that pill would be $95.83. In an economy such as this, where people struggle to find cushion in their budgets, there is hardly any room to pay for preventing HIV (particularly when the cost per month is equal to a car payment). Counting on insurance to foot the bill is a possibility but it is doubtful that a gay man working for even a below average salary has enough health insurance to cover such a bill for prevention (donut holes aside). Most insurance companies are more comfortable with paying for less expensive methods of prevention such as annual check ups where doctors decide if a person is at risk just by looking at them. (Excuse the sarcasm.)
Advertisement
Second, this is a preventive method not a cure. It's safe to say that people would happy to take a pill everyday if it was a cure for AIDS. However, this is a preemptive tactic. In order for Truvada to be effective it must be taken consistently everyday.
Consistently
. So if a gay man believes that he is not at risk for HIV in the first place, will he be as diligent about taking the drug? How faithful will he be to the routine if he already believes that HIV is some other person's problem? Something is missing.
Preventing HIV really comes down to behavior. HIV, unfortunately, is a virus that behavior-based. One must engage in certain behaviors in order to contract it. Too many people believe that HIV is not their problem, it's a poor person's disease, or that it's a punishment for people who were doing something wrong in the first place. The ignorance about this disease and how it is contracted is where health educators really need to focus. Pills are great and the news of a new potential prevention method is still wonderful. But getting groups of people to see that they are at risk remains to be the challenge. The public must still use condoms, refrain from sharing needles, get tested, and most of all talk about HIV. Prevention lies within the people not the pill.
On a separate note, there is still time to register for the International Conference on Stigma at Howard University on Wednesday, December 1st (World AIDS Day). It is free and open to the public. Click here for more details.
Get tested. Get care. Get involved.
Get e-mail notifications every time Candace's blog is updated.
---
| | |
| --- | --- |
| No comments have been made. | |
Add Your Comment:
(Please note: Your name and comment will be public, and may even show up in
Internet search results. Be careful when providing personal information! Before
adding your comment, please
read TheBody.com's Comment Policy
.)