Condoms Are Tolerable With the Pope but Fine With Local Clergy
By Candace Y.A. Montague

November 23, 2010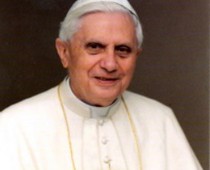 Condoms are OK but not for birth control. Photo: europeanlifenetwork. blogspot.com.
Pope Benedict XVI has stated in
a recent interview
that he is OK with condom use as a method to prevent the spread of HIV. He does not condone using condoms to prevent pregnancy but in the case of male prostitution it is understandable. The comments are coming out of the book
Light of the World: The Pope, The Church, and the Sign of the Times
that was published yesterday. In the book, the Pope states that the Roman Catholic Church does not see condoms as "a real or moral solution," and says that they are "not really the way to deal with the evil of HIV infection. That can really lie only in a humanization of sexuality." This is the point that local church leaders are attempting to address as well.
Recently, HAHSTA hosted a One in the Spirit Symposium where local church leaders came together to discuss AIDS, stigma and sexuality in the church. Many of the leaders in attendance expressed sincere concern about the spread of the virus and stressed the importance of discussing it within the church. Condoms were also discussed as a means of preventing the virus. The key to getting more clergy members on board with condoms is first talking about sexuality (including homosexuality) among youth, adults, and even seniors in the church. Condom use is just one aspect of the discussion that needs to occur sooner rather than later.
For more information about the book, click here.
Get e-mail notifications every time Candace's blog is updated.
---
| | |
| --- | --- |
| No comments have been made. | |
Add Your Comment:
(Please note: Your name and comment will be public, and may even show up in
Internet search results. Be careful when providing personal information! Before
adding your comment, please
read TheBody.com's Comment Policy
.)