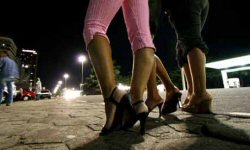 Transactional sex is criminalized in all states except Nevada.
At the United Nations in Geneva this morning, advocates for sex worker rights lambasted the U.S. for criminalizing sex work, which they say has led to human and civil rights abuses across the U.S.
According to a report presented by three sex worker rights groups, a host of U.S. laws infringe on the rights of individuals who engage in sex work. The report recommends -- among many reforms -- that the U.S. amend policies that prevent sex workers from receiving student loans and public housing; and that the U.S. end the practice of using possession of condoms as evidence of a crime (which happens in New York).
The report also recommends that the U.S. repeal laws requiring those arrested for sex work to register as sex offenders and prohibit agencies that receive public funding from discriminating against those with a history of sex work.
Advertisement
U.S. treatment of sex workers will become an increasingly relevant issue as the country gears up for the 2012 International AIDS Conference in Washington, D.C. Sex worker rights advocates have already expressed fears that hundreds of people will be shut out of the conference due to the U.S.' highly restrictive visa policies that prevent admitted sex workers from entering the country.
The presentation this morning was part of the UN's Universal Periodic Review, a process by which all 192 UN Member States have their human rights record assessed by their peers every four years. Today the U.S.' record is up for inspection.
The sex work report was compiled by three human rights groups, the Best Practices Policy Project, Desiree Alliance, and the Sexual Rights Initiative.
Read analysis from Allyn Gaestel at the Foreign Affairs Blog Network.
(Please note: Your name and comment will be public, and may even show up in
Internet search results. Be careful when providing personal information! Before
adding your comment, please
read TheBody.com's Comment Policy
.)