D.C. Women's Organization Pushes Safer Sex in the City
By Candace Y.A. Montague

November 8, 2010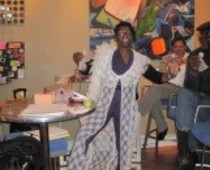 MNF now stands for Monday Night Females. Photo: DC HIV/AIDS Examiner.
Move over fellas. MNF no longer stands for Monday Night Football. The Women's Collective have changed the game to Monday Night Females. Ok. That's corny. But last night's discussion on female condoms was definitely focused on women. The Women's Collective hosted a lively and interactive discussion about the FC2 female condom at the cozy Brookland Café in Northeast. The forum and demo is a part of an on-going effort to get female condoms off the shelves and into the bedrooms of DC.
Female condoms were reborn this past March with a $500,000 grant from the MAC AIDS fund. The fund was presented in hopes of revitalizing the use of female condoms after dismal sales in 1995 when it was first introduced. This summer, the DC Department of Health launched the DC's Doin It campaign to push female condoms into the spotlight and empower women to protect their sexual health. "We're hoping that this will just be part of their arsenal," said Dr. Nnemdi Kamanu Elias interim Director of HAHSTA. "It's something they themselves can initiate and they themselves have control over." The Women's Collective was one of the five recipients to receive female condoms for distribution.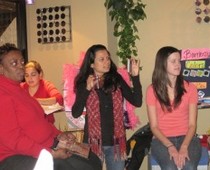 Last night's session was an active, light-hearted, no holds barred talk about the ins and out of the new and improved FC2 (no pun intended). The discussion included a quiz about the female reproductive system, a monologue about the vagina from a woman called "Vagina," and a hands-on practice session on how to use the condom with female and male participation. Audience members fondly joined in on the activities and were seemingly impressed with the ease of using the FC2.
The challenge that lies in the distance is actual use of condoms (male or female). As reported before during the launch of the Rubber Revolution, the citizens of DC seem to have no problem getting condoms. The actual use of condoms is where the problem still exists. People have reported allergies to latex, too much restriction around the penis, and interruption of intimacy when the couple has to stop to put on the condom. Female condoms can be inserted two hours before sex, is made from nitrile, and allows more space for the penis than a male condom does. The main idea: being prepared is better than being regretful.
For more information about the Women's Collective and the FC2 female condom, click here.
Get e-mail notifications every time Candace's blog is updated.
---
| | |
| --- | --- |
| No comments have been made. | |
Add Your Comment:
(Please note: Your name and comment will be public, and may even show up in
Internet search results. Be careful when providing personal information! Before
adding your comment, please
read TheBody.com's Comment Policy
.)