An Interview With Daniel Berger, M.D.
For years now, it has been clear that HIV-positive people are especially prone to developing unusual increases of fat in specific parts of their bodies. What has been less clear is exactly what a person with this type of fat gain, known as lipohypertrophy, can do about it.
On Nov. 10, a new option was approved by the U.S. Food and Drug Administration (FDA). Its name is Egrifta, known generically as tesamorelin. It is the first drug approved specifically for use by HIV-positive people with lipohypertrophy. Egrifta doesn't treat all kinds of fat gain -- it focuses on reducing fat gain in the belly area -- but its approval is historic nonetheless.
Daniel Berger, M.D., has been one of the HIV clinicians involved in studies of Egrifta prior to its approval. He is the medical director and founder of NorthStar Medical Center in Chicago, as well as a clinical associate professor at the University of Illinois-Chicago College of Medicine. In this interview, he'll walk us through how Egrifta works, who should take it, and what else we know to date about the treatment of lipohypertrophy.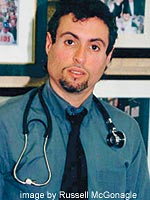 [Editor's note: This interview does not include a discussion of the specific warnings and indications included in the drug's labeling; we'll follow up on that in a future article. In addition, in the interest of disclosure, please note that Dr. Berger was a lead investigator for both phase 3 studies of Egrifta and a co-author of several published studies on the drug. He has served as a speaker and consultant for Theratechnologies Inc., which developed Egrifta. He has also served as a speaker and consultant for Serono Laboratories Inc., which is marketing the drug. This interview represents Dr. Berger's personal opinion and not necessarily that of Theratechnologies or Serono.]
Let's start with the basics. What is Egrifta?
Egrifta -- previously it was known as tesamorelin or growth hormone-releasing factor -- is a medication that was studied in HIV-infected individuals with increased belly fat, in the form of visceral adiposity or fat accumulation. In other words, it was investigated in patients who had fat accumulation within the abdominal body cavity. We also use the term lipohypertrophy to denote the same thing.
The studies with Egrifta were designed to examine whether patients with visceral fat accumulation can take Egrifta safely, but specifically, using it as a strategy to obtain reductions of visceral abdominal fat. So this drug is important and is going to be used for HIV-infected patients who are developing or have had increases in abdominal, visceral fat.
About how many people are we talking about here? People with HIV who have this excess fat in their belly.
There's been a number of studies that looked at the prevalence in abdominal fat accumulation. I believe, of the three or four studies that I'm familiar with, it's anywhere between 25% to 35% of patients that are currently on antiretroviral therapy in whom we have observed abdominal fat accumulation.
Advertisement
Is there any particular person that's more likely to have it?
In the early days of the epidemic -- or the earlier days, I should say -- when certain medications that were more metabolically toxic were used, we observed lipohypertrophy, or fat accumulation, more often. So for example, a protease inhibitor known as Crixivan [indinavir] was a medication that was quite famous [for causing this] and, in fact, people often referred to the manifestation as "Crix belly."
But we are not using that medication currently, and some of the newer protease inhibitors, we feel, are less likely to cause the problem. There are other medications, such as nucleosides, that have also been found to have similar problems in terms of metabolic problems, including fat redistribution.
Which specific nucleosides are you talking about there?
I should back up a little bit and just say that it goes toward understanding the cause and mechanisms of this fat redistribution problem. We feel that medications that have mitochondrial toxicities play a greater role in being associated with the problem. Mitochondria are small organelles that are metabolic powerhouses in each cell. And fat tissue is actually very rich in mitochondria. Certain nucleosides such as Zerit [stavudine, d4T], ddI [Videx, didanosine] and AZT [Retrovir, zidovudine] have an inhibitory effect on mitochondrial DNA polymerase gamma, which is the principal enzyme responsible for mitochondrial DNA synthesis. And it can also have other negative effects on protein synthesis. Some of the nucleoside analogs pose a significant obstacle for normal metabolism and this leads to increased fat redistribution changes in HIV.
And it's worth noting that there's been development of newer agents, most being thought of as being less mitochondrial toxic, or in other words, being mitochondrial friendly. These medication toxicities, overall, have been observed much less than with the older agents that were used back in the day.