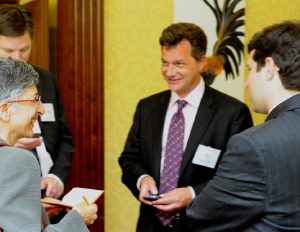 Bo Cooper will assess visa policies for IAC 2012.
Two bits of news regarding who will -- and won't -- be able to attend the International AIDS Conference in Washington, D.C. in 2012.
First, the IAC's Conference Coordinating Committee confirmed last week that it will not move the event from Washington, D.C. This wasn't a huge surprise: Few thought the committee would switch from such a high-profile locale. Still, it's worthwhile to hear this commitment so strongly -- there's no going back now, despite the major challenges the committee faces around the inclusion of sex workers and drug users.
Second, the task force created by the committee to investigate potential barriers to entry for IAC 2012 has hired Bo Cooper, a D.C.-based immigration lawyer. Cooper will produce a document that lays out the legal guidelines for admissibility for sex workers and drug users into the U.S., and he will offer recommendations on how the U.S. government could permit conference delegates to attend in 2012. "He will work closely with the [U.S. government] finding all facts," said Mats Ahnlund, executive director of the International AIDS Society and a member of the committee.
The IAC has not taken place in the U.S. for nearly 20 years, due to a long-standing ban on HIV-positive persons entering the U.S. The recent removal of that ban means the conference can take place in the U.S. However, the U.S.'s restrictive entry policies for individuals who identify as sex workers or drug users has many human rights groups worried that IAC 2012 will be less inclusive than past conferences.

This article was provided by
Housing Works
. It is a part of the publication
Housing Works AIDS Issues Update
. Visit
Housing Works' website
to find out more about their activities, publications and services.
(Please note: Your name and comment will be public, and may even show up in
Internet search results. Be careful when providing personal information! Before
adding your comment, please
read TheBody.com's Comment Policy
.)