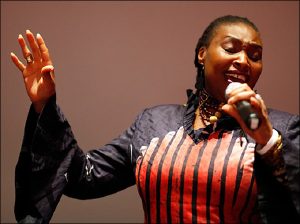 Yvonne Chaka Chaka
On Sunday, November 7, 2010, retiring Rep. Diane Watson, in the final public forum she will hold as a member of Congress, welcomes Yvonne Chaka Chaka to South Los Angeles with a screening of the singer's just-released documentary,
The Motherland Tour: A Journey of African Women.
This event will take place at the Congregational Church of Christian Fellowship on Hobart Blvd. in South Los Angeles. The public is invited free of charge and will have an opportunity not only to view the hour-log film, but to meet and ask questions of Ms. Chaka Chaka and Congresswoman Watson, along with a panel of advocates who will discuss HIV/AIDS in America's African Diaspora. The panel will include Black AIDS Institute President and CEO Phill Wilson, along with African American celebrities-cum-HIV activists Sheryl Lee Ralph* (of the Diva Foundation) and Bill Duke* (known for his acting and directorial roles in X-Men: The Last Stand and Sister Act II). Panelists will discuss similarities in combating HIV/AIDS in Africa and the United States. A reception will immediately follow.
Who: Rep. Diane Watson, Yvonne Chaka Chaka, Phill Wilson, Sheryl Lee Ralph*, Bill Duke*
What: Film Screening and Panel Discussion
When: Sunday, November 7, 2010, 2-6 pm
Where: Congregational Church of Christian Fellowship
2085 S. Hobart Blvd.
Los Angeles, CA 90018
About Yvonne Chaka Chaka
Advertisement
Having grown up poor in the South Africa of apartheid, a melodious voice brought Yvonne Chaka Chaka television fame in 1981 while still in her teens. Like African American singers Stevie Wonder and Michael Jackson, her music's ability both to reflect the zeitgeist of her times and to evolve in unexpected directions has kept her fame fresh. She is renowned internationally for "Umqombothi," her signature song which opens the film Hotel Rwanda, as well as for such Mbaqanga-influenced hits as "I'm in Love With a DJ" and "I Cry for Freedom."
Youthful fame empowered rather than over-powered the young Yvonne, who went on to earn degrees in adult education and government administration from the University of South Africa, where she has also been a lecturer in literacy. Although success came early to Chaka Chaka in academia, as a musical artist and producer, and as a business owner with her husband, she has largely given up her private life as a celebrity millionaire to take up the cause of empowering African women in their ongoing struggles with disease, poverty and gender discrimination.
That campaign led her to HIV/AIDS activism, and to the global stage where resources and solutions are to be found for the women and children of Africa whose lives she champions. Using her voice and fame to draw crowds wherever she goes, she converts fans into students, turns concert halls into town halls, and summons female victims to take up their power as women. She also stumps the world's power centers soliciting aid, denouncing exploitation and vanquishing neglect. Having performed on stage for and then lectured the likes of Queen Elizabeth II, Nelson Mandela and Oprah Winfrey, she has become a trans-continental force to be reckoned with. Hers is the voice that soothes, the heart that embraces, and the mind that challenges humankind to do its best for those who have least. South Africa has released its claim upon her and the entire continent hails her as the Princess of Africa.
*Invited, confirmation pending.