The Rubber Revolution Begins in D.C.
By Candace Y.A. Montague

October 27, 2010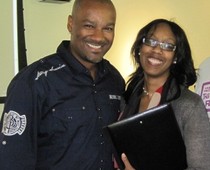 Big Tigger, Rubber Revolution Ambassador and Acting Senior Deputy Director Nnemdi Kamanu Elias, M.D., M.P.H. Photo: DC HIV/AIDS Examiner
Following in the footsteps of
Ask for the Test
and
Know Where You Stand
comes the latest social marketing campaign from the DC Department of Health.
The Rubber Revolution
was launched yesterday in Northwest DC among an intimate crowd of community partners. The campaign is the product of a collaborative effort among DC
HASTA
,
AED Global Education Center
and local radio station
WPGC
to promote the
actual use
of condoms. Yesterday's launch is the first step to an on-going push to get the message to not only young people but also seasoned citizens as well.
Michael Kharfen, Bureau Chief of Partnerships, Capacity Building & Community Outreach for HAHSTA, explained that people in DC are not utilizing condoms as originally hoped. "Now we're moving our efforts towards getting people to use condoms. They have them. They know how to get them. But they don't use them." Kharfen further explained that according to studies 40% of heterosexual couples are not using condoms and a whopping 70% of intravenous drug users are not using them.
The ambassador for the campaign is Big Tigger from the Big Tigger Morning Show on WPGC 95.5 FM. Tigger's interest in HIV/AIDS is well known through the formation of his Street Corner Foundation, a non-profit organization designed to teach young people about HIV. "When I was thinking about HIV 10 years ago, I was looking around and I was disappointed because there wasn't any real talk going on," says Tigger. He added, "I'm out there in the clubs a lot. If there's anywhere you need condoms is in the club. And now there's a revolution. The revolution will be televised and will be on WPGC."
The central part of this campaign appears to be the website, which was explained by Everett Hamilton from
Octane Public Relations Advertising
. The site will act as an HIV hub with interactive links for people who seek information. Visitors can order condoms in the mail or get directions to locations where free condoms are available. They can participate in on-line quizzes and contests, see upcoming events, and get a step-by-step diagram of how to apply a condom. It will be translated into Spanish as well as other languages and have links for visitors to share on Facebook or Twitter.
This campaign promises to be bigger and more inclusive than previous campaigns in hopes to draw in a younger crowd. The community partners in the audience seemed pleased by the preview. Dwayne Lawson-Brown of Metro TeenAIDS commented, "I think this is a well done campaign. There is a lot of cool factor, which I hope can translate to behavior change. Hopefully in the future there will be a chance for all the social marketing campaigns under DOH to collaborate."
Expect to see and hear about the Rubber Revolution on the radio commercials, Internet ads, at the Metro, at local community events, on Facebook and Twitter.
For more information or to get the Rubber Revolution to come to your community event, starting next week you can visit the website www.rubberrevolutiondc.com
Get tested. Get care. Get involved.
Get e-mail notifications every time Candace's blog is updated.
---
| | |
| --- | --- |
| No comments have been made. | |
Add Your Comment:
(Please note: Your name and comment will be public, and may even show up in
Internet search results. Be careful when providing personal information! Before
adding your comment, please
read TheBody.com's Comment Policy
.)