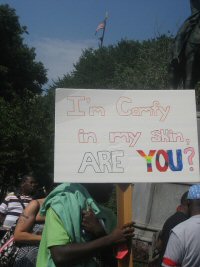 A sign at New York's Transgender Day of Action -- youth want to tell their stories.
If the CDC doesn't ask, how can transgender youth tell?
Amazingly (or not, depending on your point of view), the Centers for Disease Control and Prevention does not include questions about gender identity or transgender youth in its Youth Risk Behavior Survey. The survey is a critical source of feedback in understanding the health challenges faced by young Americans.
Join a list of organizations signing a letter asking the CDC to incorporate questions about gender identity and transgender youth in the next YRBS.
The letter includes potent information, like these statistics from the Gay, Lesbian and Straight Education Network:
GLSEN confirms these studies, finding that two-thirds of transgender students felt unsafe in school, almost half (44%) of all transgender students reported that they had been physically assaulted in the past year, and over three-fourths of transgender students (76%) reported being sexually harassed, such as receiving unwanted sexual remarks or being touched inappropriately.
National, state, and local organizations are invited to sign-on to the letter by sending an email to Dave.Reynolds@TheTrevorProject.org.
Alison Gill at the Gay Lesbian and Straight Education Network (GLSEN) at (202) 621-5821 or agill@glsen.org is also happy to answer questions about transgender youth.

This article was provided by
Housing Works
. It is a part of the publication
Housing Works AIDS Issues Update
. Visit
Housing Works' website
to find out more about their activities, publications and services.
(Please note: Your name and comment will be public, and may even show up in
Internet search results. Be careful when providing personal information! Before
adding your comment, please
read TheBody.com's Comment Policy
.)