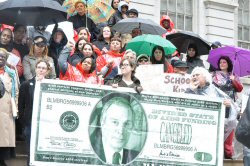 A May protest on the steps of City Hall opposing the proposed case management cuts.
According to an e-mail from Nicholas Napolitano, policy associate at the Supportive Housing Network of New York, Mayor Bloomberg and City Council plan to restore most of nearly $1.9 million in cuts to supportive housing case management services in the City's fiscal year 2011 budget.
According to the e-mail, City Council has found $1 million to help cover the cut, and the Human Resources Administration will take care of another $400,000. That leaves a cut of $476,000, which, says Napolitano, would translate to a 2% reduction in case managers. HRA will be sending letters out in the next 24 hours explaining its 2011 budget.
A spokesperson for HRA was not aware of the restorations but said the agency would confirm or amend the information in Napolitano's email tomorrow. Advocates did know that negotiations were in the works.
Advertisement
"Something is better than nothing, no doubt, but half a million is still a significant cut," said Kristin Goodwin, director of New York City policy and organizing at Housing Works. "The mayor has been chipping away at AIDS services and this is another big bite at a time when poor New Yorkers living with AIDS need more help, not less." However, Goodwin was quick to credit City Council Speaker Christine Quinn, Council Member Annabel Palma and City Council Finance for their efforts.
Fighting All Year
Housing Works and dozens of other AIDS organizations spent much of 2010 fighting against to supportive housing case managers, who play an essential role in ensuring that poor New Yorkers living with AIDS are able to access the housing, transportation and nutrition benefits made available by HASA.
The work of these supportive housing case managers is not to be confused with HASA's own caseworkers, who are a different and essential link in the benefits chain (Housing Works successfully prevented a separate, massive budget cut that would have trimmed 248 HASA workers and devastated the agency).
The on-site community-based case managers whose jobs have been saved by today's announcement are the day-to-day lifeline between HASA clients and their services. They perform such important functions as regularly meeting with HASA clients, accompanying them to appointments, and advocating on their behalf.
Read an excerpt of Napolitano's email below:
After months of intense internal negotiations, the New York City Council and the Administration reached an agreement to dramatically reduce the $1.876 million cut to on-site supportive housing case management services in HASA-funded supportive housing adopted in the FY 2011 budget. $1.4 million of the cut to HASA supportive housing case managers will be restored, with the City Council contributing $1 million and HRA restoring $400,000 of the remaining $876,000. The result will be an approximately 2% cut to providers. HRA should be sending out letters to providers later today or tomorrow detailing their FY 2011 HASA budgets.

If the full budget cut had gone through, scores of supportive housing case managers would have lost their jobs immediately and those who kept their jobs would've seen their caseload increase by an estimated 50%, dramatically reducing the amount of time they had to keep a very vulnerable population healthy and housed. Providers will still need to manage a budget reduction, but only a fraction of what was proposed in the adopted budget. We do not know if funding for HASA supportive housing case managers will face additional cuts in HRA's response to the November Plan, the City's latest PEG exercise; all parties involved in the negotiations have expressed hope that this will be the only reduction to HASA contracts in the current fiscal year.