It Matters!

More Musings From Paul Kawata
By Paul A. Kawata

October 25, 2010
This article was provided by the National Minority AIDS Council; Paul Kawata is the organization's executive director.
In eight days America goes back to the polls.
Please vote. It Matters!
Vote like your life and/or your clients' lives depend on it. Right now there are members of Congress talking about repealing Health Care Reform. Our bridge to 2014 may become a "fond memory."
Those who ignore history are bound to repeat it. I want to remind you of life in the Bush administration...
In 2002,
Us Helping Us
(UHU), a community based HIV/AIDS organization in Washington, DC, received a letter from the Office of The Inspector General at Health and Human Services (HHS) telling them about an impending audit of all their government contracts. The audit wasn't triggered because they did anything wrong, it was part of the Bush Administration's review of all domestic HIV/AIDS funding.
For the record, UHU is one of our constituents. They are considered a model program that targets Black gay men. UHU is committed to improving the health and well being of Black gay men through innovative programs and services, and -- through a vision of inclusiveness -- to reducing the impact of HIV/AIDS in the entire Black community.
Without knowing the intention of these audits, the mere suggestion sent a pale though the AIDS community. There is nothing like the threat of an audit to get you to shut up. The grapevine worked overtime with rumors like:
Us Helping Us was selected because they serve Black gay men;
More audits of AIDS Service Organizations (ASOs) would follow;
They were trying to stifle any criticisms;
They want to close us down;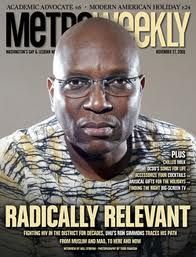 According to Ron ...
You know gossip, it spreads very easily. At times it was hard to separate fact from fiction. I don't know if any of these rumors are true, but I recently talked with
Ron Simmons
, the Executive Director (ED) of Us Helping Us to get his take on the audit.
In March 2002, the auditor arrived at his office. On the first day, she did an "intake interview" to tell him what to expect from the process and to answer questions. As the auditor begins to explain her process, she brings out a large bible. According to Ron, "this was not a small pocket sized bible, this was a big one that you saved for special occasions at church." The bible does not get mentioned, it just sits there throughout the intake interview. So begins a 14 month ordeal...
Imagine what is it means to have an official government auditor sitting at a desk in your agency. How would it impact your work? Now imagine one month goes by, then another, then another.....
Six months after she first showed up on their doorsteps, the auditor hears staff talk about last Sunday's church service. When this individual goes to take a break, the auditor follows him. She let this staff member know that "you cannot be gay and Christian." She then proceeded to write scripture on the back of her church business card. You can't make this stuff up.
The staff member gave the business card to Ron (ED). Ron called the Inspector General's office and the auditor was replaced. Now they have to restart and recheck all the work. Six months after the original auditor came to UHU, a new auditor restarts the process.
The process finally ends in May of 2003.
14 months later, two auditors later, hundreds of UHU staff hours, and thousands of dollars expended by the Inspector General's Office to have no significant findings.
Us Helping Us' ordeal was over.
Lest we forget, it matters who is in the White House. It matters who leads Congress. It matters who is the head of HHS. If we are going to fully fund ADAP and implement the National HIV/AIDS Strategy, we need leaders that support our values and understanding the challenges of fighting HIV/AIDS. So please vote. It matters!
Yours in the struggle,
Paul Kawata
Executive Director
National Minority AIDS Council
Get e-mail notifications every time Positive Policy is updated.
---
Add Your Comment:
(Please note: Your name and comment will be public, and may even show up in
Internet search results. Be careful when providing personal information! Before
adding your comment, please
read TheBody.com's Comment Policy
.)