A Poem by Michael A. Kehoe
October 20, 2010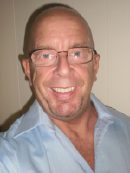 Michael A. Kehoe
Occasionally, we here at TheBody.com are lucky enough to hear from readers who volunteer to craft their own pieces sharing their stories or thoughts. This is one of those pieces. A version of this piece was also distributed to attendees at this year's United States Conference on AIDS in Orlando, Fla.
I Have HIV
Please, do not be afraid to hold me, to hug me, to embrace me -- I will not die and leave you. When the time comes, I will gladly take that part of you given to me on a journey beyond both our wildest dreams -- only to meet you once again and continue our friendship, our love, our embrace. Let our hearts prepare for this journey together -- for when that time comes, know that you will be "the wind beneath my wings."
But you would not know it. I walk amongst you, sit down at the table with you; I may even cater to your every desire -- take your order, serve your food or beverage -- entertain your soul with song or your fantasies at the theater. I am no different than you. The air that we breathe and the food that we eat are the same. So, too, is the need to live, to care and to love.
You may not know me. I may be homeless -- maybe not by choice, but because family and friends have abandoned me in my greatest time of need for love and understanding. We may cross paths in the street, in the supermarket, at the bank or at the doctor's office. Maybe we sat across from each other in a crowded bar, at our "table for one" or even in a group -- afraid to say hello or even offer to each other a warm smile, a gentle touch.
I want to share with you my deepest secret, but I cannot. I am afraid. Afraid of another rejection, of adding distance between us; of you getting up and not returning; perhaps sharing my most intimate conversation with others. I walk home alone, my hands hang still by my side instead of caressing yours; I embrace no one at night except my desire to love and be loved; I yearn deeply to wake up in the morning feeling your warmth in my soul or see the light in your eyes. Instead, I am enveloped in clouds of loneliness -- even in the new dawn's sunlight.
I do not ask you to be selfish. But I must be selfish. I will not allow myself to share with you the cause of my isolation, my anxiety and my loneliness. But yet I will be selfless -- I will let you know my deepest feelings and darkest secrets; my strongest desires and my tears of pain, joy and love.
Don't worry. I will protect you -- because I will protect me. I will not allow harm to come to you. I will share with you my desires but not my disease; my dreams but not my desolation. I need to be honest with you, so that you will trust me. As I ask you to be by my side as a friend or a lover, so, too, I want to be by your side. I want us to embrace each other's understanding and compassion. I do not want your sympathy -- I only desire your simple touch and heartfelt embrace -- but not your trepidation. Yes, I want to protect you from this stigmatized loneliness. I will be grateful that you have wanted to share a part of your life with me. Why would I want to hurt or harm you -- to take a part of your life from you or others?
I Have HIV. But I want to care for you.
I Have HIV. But I have the desire to live, to touch, and to embrace.
I Have HIV. But I have the ability to love -- and be loved.
I Have HIV. But I need you.
Michael A. Kehoe is an HIV/AIDS advocate living in Sarasota, Fla.
---

This article was provided by TheBody.
---
Comment by: valarie
(sarasota FL) Tue., Jan. 25, 2011 at 8:57 pm UTC
thank you so much for the beautiful words.having just lost my dearest friend to AIDS, your poetry is verycomforting meaning to me.very special
Comment by: Atika
(Manchester, UK) Fri., Jan. 7, 2011 at 10:03 am UTC
Wow, this is how truly most of the people feel but not share
Comment by: Rob H
(Lynchburg Va) Thu., Jan. 6, 2011 at 2:08 pm UTC
Great poem!
I understand every statement all too well. Being positive almost 16 yrs, I have struggled so much with the same feelings, rejection and loneliness. I am hoping for that to end possibly here in 2011.
Thank You for your touching words!
Big Hugs and Much Love to You!
Comment by: nikki b
(los angeles) Sun., Nov. 14, 2010 at 2:17 am UTC
let us be immune to ignorance. let us define the human existence by finding a cure. education vs application. pain has no face. love is embodied.to all those with hiv.you're struggle is my struggle.what you breathe i breathe, what you live, i live.every second counts.
Comment by: mary
(tampa fl) Tue., Oct. 26, 2010 at 5:10 pm UTC
Wonderful poem and your sentiments is so heartfelt for me, because I can feel your anxiety, your loneliness among all the other expressions you express living with HIV. We must continue to Pray for the rejection, the stigma, the pain of living with a disease to stop. I just can't understand when and how did a disease becomes the person that living with it fault. Prayer changes things.We must believe that one day soon we will be able to be among others without feeling as a outcast. Thank you for your sincere words.
Comment by: Valerie B.
(Sarasota, Florida) Tue., Oct. 26, 2010 at 12:29 am UTC
God so love the world, He gave His only begotten Son, whosoever believe in Him shall not perish but have everlasting life. Love your neighbor as you love yourself. No matter who you are or what you have or have not done we should love one another. I love you Micheal, you are my brother.
We haven't had that lunch together yet but call on me, we will make it happen.
Love you brother,
Valerie B.
Add Your Comment:
(Please note: Your name and comment will be public, and may even show up in
Internet search results. Be careful when providing personal information! Before
adding your comment, please
read TheBody.com's Comment Policy
.)