Congressional Black Caucus Meets Sisterspeak on AIDS
By Candace Y.A. Montague

September 22, 2010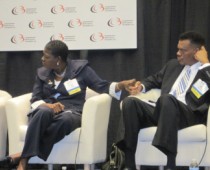 Yolonda Reed and her father Bobby Henry Sr. engage in discussion.
Photo: DC HIV/AIDS Examiner
The Congressional Black Caucus held their annual leadership conference last Friday at the convention center in downtown DC. As a part of the
Future Focus Series
, a forum entitled
Sisterspeak: Reducing HIV/AIDS in the Black Community
was held. Two panels alternatively spoke about the impact of AIDS in the black community and the need to keep it at the forefront of health. Moderated by journalist Linda Villarosa, the discussion was started with a panel of medical experts and health educators and succeeded by a panel of people who are infected with or affected by HIV. The lively two and a half hour discussion brought about questions that challenged participants to do more than just talk about AIDS.
A Parent's Story
Advertisement
On the family panel was Bobby Henry, Sr., CEO of the
Westside Gazette Newspaper
(Florida) and his daughter 39-year-old Yolonda Reed. Yolonda was diagnosed as HIV positive an the age of 17 when she signed up to enter the Air Force. Bobby tearfully reminisced hearing the news for the first time. "When I first got the call that Yolonda was HIV positive I began to question. I was 16 when she was born and she was 17 when she told me her status. I wasn't there enough in the early years emotionally. Would she have contracted it if I was there more?" They insist that the HIV diagnosis actually brought them closer together and has prepared Yolonda to talk about it with her teenage sons. "Young people see people living with this disease. They think it's not a big deal. But I talk to my sons about this. I tell them 'you don't want to live like this'," states Yolonda.
Teresa Brown recalled when her son Marteniz told her he was HIV positive in 1998. Marteniz, then 18 years old, was preparing to go into the military when he got the news. "He was looking at me funny for a few days. Then one day he said 'Mom, I have HIV'. I hugged him and kissed him on the mouth. I told him no matter what I'm, going to be there. When my boyfriend stopped playing basketball with Marteniz on Saturday mornings, I told him 'you got your hat. Now get your coat'. I kicked him out," says Teresa. She and Marteniz are now spokespersons for the national Greater Than AIDS campaign.
The Experts Weigh-In
The diverse group of panelists discussed various stumbling blocks for African-Americans regarding AIDS. Lack of consistent discussions and messages were offered up a some reasons why AIDS continues to sweep through the population. According to the panel and the audience, there is not enough discussion about AIDS in homes, on historically black college campuses, or outside of the HIV community. "We have to have authentic conversations. We have to tell our stories," says Janet Cleveland, deputy director for prevention programs in the DIvision of HIV/AIDS Prevention at the Center for Disease Control. Dr. Bambi Gaddist raised the point that people must take charge of their health and keep doctors on thier toes. "We are not holding our physicians accountable. We have not taken possession of our bodies and of ourselves." Dr.Veronica Jenkins, medical director at Family and Medical Counseling Services, quickly interjected that doctors are holding themselves accountable but the patients must speak up. "If you are with a physician to which you cannot speak of your most intimate details, then you are with the wrong physician," stated Dr. Jenkins.
There was no discussion of a follow-up or other events where the dialogue about HIV/AIDS will continue. And no solutions or resolutions were drawn either. So, for now, the issue will continue its cyclical route at forums where informed people talk only to one another.
Get tested. Get care. Get involved.
Get e-mail notifications every time Candace's blog is updated.
---
| | |
| --- | --- |
| No comments have been made. | |
Add Your Comment:
(Please note: Your name and comment will be public, and may even show up in
Internet search results. Be careful when providing personal information! Before
adding your comment, please
read TheBody.com's Comment Policy
.)