Is the Abstinence-Only Program Still Worth It?
By Candace Y.A. Montague

October 5, 2010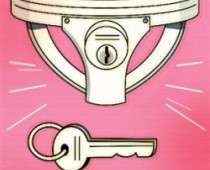 Time to unlock this mystery.
Photo: babble.com
Last week,
Sexual Health Advocates
announced that 42 states including the DIstrict of Columbia requested federal
Personal Responsibility Education Program (PREP)
funds to support comprehensive sex education programs. However, 30 states applied for Title V abstinence-only funds. What does that mean?
It means states are still not sure about what works best to prevent teenage pregnancies and reduce the number of teens contracting sexually transmitted infections (STIs) or HIV.
The debate is far from over and according to Sexual Health Advocates new legislation has been introduced to help end the debate once and for all.
Comprehensive sex education programs include information about abstinence, contraception, and condoms while educating students about alternative lifestyles (i.e. LGBTQ). The reasoning behind this program is to help students make informed decisions about sex if they decide to partake in it. Abstinence-only programs promote abstaining from sex until marriage. Any additional information about contraception and alternative lifestyles is typically not included.
Advertisement
Debra Hauser, Executive Vice President for
Advocates for Youth
, published a report on a five year study of abstinence-only-until marriage education. In 1996 Congress signed into law the
Personal Responsibilty & Work Opportunities Reconciliation Act
otherwise known as welfare reform.
They attached a provision appropriating $250 million dollars for states to promote abstinence outside of marriage for young people
(gotta read the fine print of these laws, ya know). Advocates for Youth was only able to find 10 evaluations from this nationwide "experiment". Hauser's conclusion was "Abstinence-only programs show little evidence of sustained (long-term) impact on attitudes and intentions. Worse, they show some negative impacts on youth's willingness to use contraception, including condoms, to prevent negative sexual health outcomes related to sexual intercourse."
Last Wednesday, Senator Frank Lautenberg (D-NJ) and Representative Barbara Lee (D-CA) introduced the Repealing Ineffective and Incomplete Abstinence-Only Program Funding Act. This legislation would end the Title V abstinence-only-until-marriage programs once and for all, and transfer that funding to the Personal Responsibility Education Program (PREP) state-grant program. Congresswoman Lee stated "The issues of unplanned pregnancies and sexually transmitted infections among our young people have reached a critical level. The best and most responsible way to protect them is through comprehensive sex education."
What do you think? Should abstinence only until marriage be given one more try?
To read Debra Hauser's report in full, click here.
Get e-mail notifications every time Candace's blog is updated.
---
| | |
| --- | --- |
| No comments have been made. | |
Add Your Comment:
(Please note: Your name and comment will be public, and may even show up in
Internet search results. Be careful when providing personal information! Before
adding your comment, please
read TheBody.com's Comment Policy
.)