What Oprah Did Not Tell You About HIV and the "Down Low"
By Candace Y.A. Montague

October 8, 2010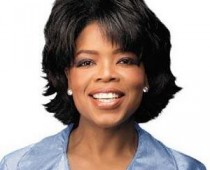 Sorry Oprah. The "down low" is just hype.
Photo: infotainmentnews
Oprah Winfrey is an inspirational American icon but someone in her fact checking department needs to step up their game. On yesterday's show, Oprah had a guest named Bridget B., an African-American woman who is HIV positive. She was by infected her husband who, apparently, concealed his gay sex life from her. Once she found out about his desire to sleep with men, she divorced him, sued him and won 12 million dollars. Oprah also had J.L. King, author of The Down Low, return to her show six years after he came onto her stage and 'dropped the bomb'. Both guests reiterated how not knowing about a man's secret gay sex life can cost a woman her life.
Oprah is not out in left field with this topic but she did not present a balanced picture. There are several points that she brought up in her discussions but did not follow through.
'The Down Low' syndrome has been way overblown to say the least. It's a common myth that bisexual men are the reason why HIV rates are so high among black women and that myth keeps being told (remember Sherri Shepard and DL Hughley on 'The View' this summer). According to the CDC, the percentage of men (black or otherwise) who have sex with men and women is about two percent. So chances are these men are probably not in most black women's sexual network, although there are no guarantees.
When the subject of Bridget's medication came up, Oprah fell back on that old golden nugget "Magic Johnson has HIV and is living well." Here we go again. Yes, there are a plethora of medications to help people live longer with HIV but there are more than 3,400 people in the country who cannot afford them. The government is supposed to help them but the funding is short. So their names are added to a list at the AIDS Drug Assistance Program commonly known as ADAP. Local non-profit organizations such as The AIDS Institute and ADAP Advocacy Association have been feverishly challenging the government to do more to save the program. Chances are Magic Johnson's name is not on that list. After Bridget B. tearfully corrected her, Oprah acknowledged on her show that she was wrong about that.
The overall message from the show (at least in this Examiner's point of view) was that women need to watch out for their man and be safe. Part of that is true. Women should be safe. But they should accept some responsibility as well. Black women must acknowledge their part in the epidemic instead of demonizing Black men. Black men did not 'do this' to Black women. We are all responsible, at some level, for the spread of the virus.
Oprah's show was informative but did not do much to dispel the myth about the down low or to erase the stigma that surrounds HIV. Her website does offer an article on The 7 myths about contracting HIV. Sadly, that article will not be as wide spread as yesterday's show. It's just another example of how myths can get more hype than the truth.
Get tested. Get care. Get involved.
Get e-mail notifications every time Candace's blog is updated.
---
Add Your Comment:
(Please note: Your name and comment will be public, and may even show up in
Internet search results. Be careful when providing personal information! Before
adding your comment, please
read TheBody.com's Comment Policy
.)