This Positive Life: Mondo Guerra of Project Runway Talks About Living With HIV and the Power of Disclosure
October 19, 2010
Let's talk about the show and that moment when you disclosed. And may I say that I watched the clip at my desk at work, and tears were coming down my face. It was very powerful. Did the show's producers know that you were positive? Coming in, did you have any intention of disclosing your status sometime during the season?
In the process of the application and audition, you have to go through so many different things, like [your] medical background. So they knew that I was HIV positive, but they were really respectful of my wishes to not disclose that or talk about it on air, because it shouldn't be an issue. I'm not there to be this poster child for HIV. I wasn't planning on that. I wasn't thinking that. I wasn't anticipating that.
I was there to fulfill a dream and to work hard and challenge myself, not as an HIV-positive person, but as a fashion designer. I didn't ever expect all of this to happen.
Advertisement
So it just kind of happened?
Yeah, it really did just kind of happen. It was weird, but that particular day we were presented with a challenge and it was influenced by childhood pictures. A lot of those pictures had my family in it. And it just really started me thinking, and I designed a couple of textiles, and the thing that really made me go with the plus-sign or the positive-sign textile was April Johnston. I showed her the two and she said, "This one's more you." And with her just saying that without even knowing the story, something clicked and I'm like, "Yeah, that is me. That's it." And so I used it.
Then they sent in my mom, and I wasn't expecting that. So that was a whole new [dimension] that just added to, not the pressure, but, like, it really threatened me. The [producers] were asking me, "Are you going to talk to your mom about this? How do you want to handle this? Because we know what your situation is and what your design's about." And I had [spoken to] Tim Gunn about my inspiration: "I haven't disclosed to the other designers about my textile," this and that.
So being with my mom, it was hard because I didn't talk about it. I still didn't talk about it [with her], but I was talking about it in an interview. In some ways, when you're there, your interview is sometimes very therapeutic. You can really let out a lot -- being stressed, whatever it is that you're feeling -- that you can't necessarily work out when there's another seven, eight designers and strangers practically around you.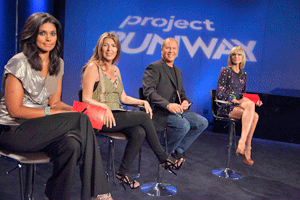 The panel of Project Runway judges. (Credit: Barbara Nitke/Lifetime)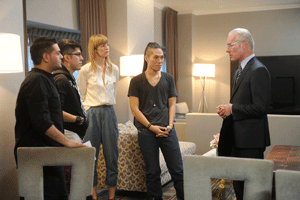 Tim Gunn with the final four contestants in season 8 of Project Runway. (Credit: Barbara Nitke/Lifetime)
So I didn't tell my mom. And going onto the runway the day of the challenge, after the runway show, I didn't plan on talking about it. When initially asked, I lied, still kind of danced around the whole inspiration. I told them it was about color and shape and construction paper and this and that.
It wasn't really until Nina Garcia said, "Well, I wish I knew what the story was." And it felt like somebody was asking me, somebody very kind and concerned. It was just a different voice. I really felt like it was somebody else, other than Nina.
Usually, she's such a spitfire on the show. She's our favorite, but she's also so sassy in a kind of fabulous way. So in that moment, she was so endearing.
And it wasn't forced. It wasn't like she was prying into my personal business. So I felt really comfortable being like, "Hey, Nina. You asked me what my story was and this is it." So I just talked about it. And in the first couple of sentences, I think you can see even in the show that I kind of get choked up and a little teary-eyed. But after I started talking about it, it got easier and easier, and by the end, I had lifted so much weight off my shoulders that I had just been holding onto for such a long time that I really did feel free.
I felt love again. I felt love for myself. I felt love for my creative mind. I felt love for life. I felt love to really conquer this whole thing. And so I really did feel like a new person, and it was amazing. That was 100 percent exactly how I felt. I mean, I was walking on air. It was amazing.
It was like your "aha" moment.
Right, it was like my "aha" moment, and I never thought that it would be that easy to talk about. But for some reason, that day I was definitely being guided. And I will never forget that day. I will never forget it. It was amazing.
More From This Resource Center
---

This article was provided by TheBody. It is a part of the publication
This Positive Life
.
---
Comment by: faith
(washingtom) Mon., Dec. 6, 2010 at 3:48 pm UTC
Iam so happy that you able to do this may God help you though your problem
Comment by: Dave
(NJ) Wed., Nov. 10, 2010 at 10:43 pm UTC
Mondo loved, loved your blog! Good for you to have the courage to disclose. Your experience with this disease is, unfortunately, well known to those of us whom are also positive. Your blog was very refreshing. Good for you; wishing you well and much success. Love
Comment by: Miriam Martin
(Vancouver, BC) Tue., Nov. 2, 2010 at 1:33 pm UTC
Love love love Mondo! As an HIV educator (for Positive Women's Network http://www.pwn.bc.ca) and a Project Runway fan, I also cried my way through the "disclosure" episode. Mondo, I'm thrilled to hear that you felt supported by the producers and contestants. Thanks for this interview.
Comment by: Imannol
(FL) Tue., Oct. 26, 2010 at 7:08 pm UTC
I just tested positive 4 months ago, and I am 42. I do not think age makes a different in the inpact in your life when you get a desease. I passed though similar situation, but my doctor suggested that I start medication right away, I do not know if that was the right thing but I did it. I have been weak all my life, so I have to trust him. Even after being careful, it seems that I got infected through surgery, but it is hard to say, because the guy that I was dating early this year cheated on me, because there is no legal comitment about it to makes us more resposible in our actions. I do not want to get married, but I can see how important is to take legal resposibility in your behaivor now.
Comment by: Marc C.
(Los angeles, CA) Sat., Oct. 23, 2010 at 6:42 pm UTC
also being latino and being poz for 20 yrs..you really re-inspired to take a look again at myself..thank you Mondo! I wish you were in LA! your heart is your strength..
Comment by: Neal
(SW Michigan) Thu., Oct. 21, 2010 at 2:48 pm UTC
I have been watching Mondo grow in his confidence on this show and when he disclosed his status I wanted to give my encouragement and support in his HIV struggle. I have been poz since 2003 and can understand Mondo's feelings and concerns. Would love to get in contact with him and become good friends. This article will be good for all to read. Best wishes and luck to Mondo and his future successes.
Comment by: blake
(Nigeria) Thu., Oct. 21, 2010 at 6:04 am UTC
i became hiv positive last week. i havent told anyone.
Comment by: CK
(Botswana) Thu., Oct. 21, 2010 at 4:17 am UTC
Has your HIV status affected your career, if so how?
Comment by: John B.
(Austin, Texas) Wed., Oct. 20, 2010 at 8:13 pm UTC
I picked you on show #2 to get to fashion week even though you had a slow (ok abysmal) start, I 'saw' you and called you out so go kick some butt on that runway and THANK YOU for EVERYTHING! I hope one day to summon the courage to also not live with the wall of cowardice and find my inner Gods to lead me to freedom, grace, and love once again. Hope to see you there! *Big hugs* John
Comment by: Alfred V.
(Memphis, TN) Wed., Oct. 20, 2010 at 1:45 pm UTC
I am also HIV+ and I just want to say "Way to go Mondo!" :-)
Add Your Comment:
(Please note: Your name and comment will be public, and may even show up in
Internet search results. Be careful when providing personal information! Before
adding your comment, please
read TheBody.com's Comment Policy
.)