Let's talk about some of the people who access your services. Is there an average age? Are they mostly younger? Older? Is there a mix?
It's a mix. We really don't have any parameters, and it kind of comes in batches. It seems like in the springtime there's a lot more young people. I guess maybe they're getting out of school, they're getting a little frisky, and they want to get out there. They need condoms, things like that. So we get a younger crowd in the warmer months. And then in the winter months, for some reason, the older guys start showing up. And when I say "older" and "younger," I'm thinking it's like age 30 is the [cutoff] age. Under 30, they're still young adults -- adolescents and young adults. Then the over-30 population to me is what I call the mature group, although that can be --
That's questionable, depending on who you're talking about.
Right. But on an average, I'd say, between the ages of 20 and 30. And I'm saying we've got guys who are men who have sex with men, and we have transgender people, male-to-female. That's basically who we are. And we have a couple of Latino clients, not so much. In fact, we're trying to improve our cultural competency. I'm learning Spanish, as a matter of fact. I put money on that Rosetta Stone thing. I'm learning how to say hola and los niños, and all this kind of stuff. It's going to be slow. But we're determined to add that piece to us. Because the Latino community, they're our sisters and brothers, as well. And there's a language barrier there that's keeping us from doing a better job. So that's how we're addressing that. But mostly, it's African-American and young people.
Do you feel like the aging community -- and when I mean aging, I mean 55 or over -- even though they're testing positive, they don't come? They don't access services at your organization?
You know what? That is true. And I'm not real sure why. I mean, we do as many health fairs as we can out here, and we put the word out there. But I think there's not enough -- hmm; how can I say it? There's not enough out gay activity for people that age to feel real, real comfortable. Remember, they grew up in a different time and space. These kids nowadays: It's okay to be open. I mean, they talk about it in their yearbooks. You know, and there are things like that. They go to each other's proms and things like that. So there's a lot of that interaction going on in that age group.
With the older age group, people tend to stay in their neighborhoods, or they get set in a pattern. If they're going to go out, they're going to go out to New York City, instead of staying in Newark, because there are no real bars, gay bars, here in Newark.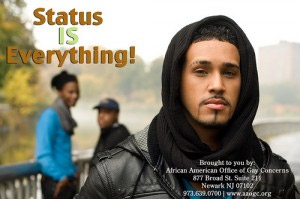 Status Is Everything!
I had the pleasure of attending the Status Is Everything launch in Newark a few months back. Can you tell our audience what this HIV prevention campaign is, how it came about, and why social marketing and online tools are key components in this campaign?
That's a loaded question. I'm going to try to answer it as succinctly as possible.
So the first part is: Tell me why it came about.
First of all, Status Is Everything is the name of the campaign. And it is actually something that was one of my dreams. It came to me in one of my dreams. So every piece of material that we've put out at the AAOGC since our inception has had Status Is Everything on there. We explain it to mean whether or not you are HIV positive; or whether you know your status, if you're HIV positive or not. And, just, status is everything.
The Department of Health in Trenton at some point had some funds left over, or there were some funds from the CDC that they could access. And they approached our organization, because of who we are, and our location, and our standing within the community -- which took a few years to get -- and said, "Could you guys come up with something? Because the numbers among gay black men are still rising, and we need to address that. And we're not sure how to go about doing that. And since you guys are here, and we want to concentrate in Newark, do you want to try it?" And I'm like, "Yeah!"
So we got together with Rutgers University, and we did a series of focus groups last summer. We wanted to find out exactly what a campaign for gay black men would look like. Basically, they told us, "You're not going to go out to bars, handing out condoms, because it ain't going to happen here. You need the Internet. You need Tweetering [sic]." You know, all these things that I've been on the fringe of, you know. So they said, "No, you have got to get with it." So my staff made me open up a Facebook and MySpace account.
And I'm looking at these things and I'm going, "I guess people really are on here." And there are some chat lines and hookup sites, too, that make me blush. I'm a certain age, and I've been with Peter, it will be 20 years this month. So, you know, there are some things that kind of opened my eyes, as far as what the young people are out there doing and saying.
But to make a long story short: We worked with a group called FEMWORKS here in Newark. They are a lesbian organization, lesbian owned and operated organization. And we came up with this whole thing, with bus ads, and we got a billboard. But the message we were trying to get across is to find out, you know, testing sites. So the campaign was really about finding a testing site, or going to get tested. You know, test with a friend; test with a family member; test, test, test. Find out your status so you can do the right thing.
We were lucky enough to have been picked to do this. We were also lucky enough to have good people working with us, and good organizations, like NJCRI [North Jersey Community Research Initiative] and Project WOW!, and people like James Credle: They helped us put together focus groups to find out where we should spend our money, or where we should not spend our money.
We're still learning our lessons. But social marketing, tweeting, blogs, reading blogs: This is what people do nowadays. So if you're going to be in HIV prevention, this is where you need to be. We're just trying to keep it fresh and alive. You know, it always costs money, but we've been lucky enough that we've been able to find the funding, so far.