Welcome. My name is Kellee Terrell and I'm the news editor for TheBody.com. This HIV Frontlines interview is with Gary Paul Wright, the founder and executive director of the African American Office of Gay Concerns (AAOGC) in Newark, N.J. Hello, Gary. Thank you for joining us today.
Thank you for having me.
Of course. Can you tell me how the African American Office of Gay Concerns came about? And how long has it been in existence?
Well, let's see. We just celebrated, this past spring, eight years. We've been here eight years. We actually started because a couple of friends of mine had attended an MSM [men who have sex with men] of color conference in Philadelphia -- we're talking like '98, '99 -- and what we learned was that there was no organization, or nobody in the state of New Jersey that was actually addressing the HIV/AIDS epidemic for African-American men, black men, especially gay black men.
You said even in 1998, 1999?
Yeah, even at that time. I mean, there was no specific stuff happening. And of course, I'd been with GMHC [Gay Men's Health Crisis, a prominent HIV/AIDS organization] many, many years. So there were things going on, but there was no one really dedicated that we knew of [who was] specifically addressing the situation.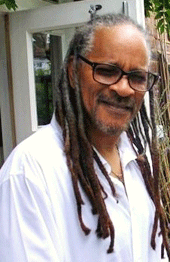 Gary Paul Wright
So we said, "Well, we can change that. We can start our own organization." I should have stopped right then and there, because, you know, they say be careful what you ask for because you might get it. But we did. We proceeded, and we put together a little board. We met in my kitchen, Peter [Wright's partner of 20 years] and I and eight of our friends, and we said, "Let's do this."
We got some funding, locally, through the Department of Health and Senior Services down in Trenton. They gave us some technical assistance. And they said, "If you're serious about doing this, we'll throw in some seed money for you." And about a year and a half later we got our 501(c)(3), we found an office, and voila! We opened up on Broad and William Street, here in Newark.
What had you been doing in the HIV community prior to founding the office?
Well, let's see. I started way, way, way back in the mid to late '80s; I was a volunteer at Gay Men's Health Crisis. I'd just moved from Los Angeles. And that was about '84, '85, when the epidemic was really, really starting to make its mark. And of course, back in those days, it was called GRID, which is gay-related immunodeficiency disease, or whatever. And when I got to New York, GMHC was the first and foremost in helping people with HIV and AIDS. It wasn't even called HIV then.
I volunteered for them, and I did work with the [New York City] education department. I did workshops, safer sex workshops, and things like that. I was a little upset because there was not a lot of black participation in some of their programs, so I wrote a letter to Richard Dunn [a New York City reporter], way back then, and he sent it to the education department. And they, well, they hired me. So that shut me up, didn't it?
I started doing work with them, and I founded the House of Latex way back when.
Oh, wow.
Yeah, how about that? I'm the great-great-great-grandfather of the House of Latex. A lot of people don't know that. When we started out, we were just there with condoms and pins and buttons and brochures. We had our little -- like the old cigarette girls of the '30s -- we had these trays that we made out of tops of Xerox boxes. And we handed out condoms. And we just wanted to fit into the ballroom scene, because it was thriving around that time, in the very, very early '90s. Since then, the House of Latex really grew, and grew, and grew, and then they started walking the balls, and taking it to newer heights. And now they're celebrating 20 years. In fact, next week, they're celebrating 20 years.
Oh, my goodness.
House of Latex, yeah. So they're going to dust me off and wheel me out again.
Can you briefly describe some of the programs that the African American Office of Gay Concerns has?
Well, our main focus is still HIV prevention. We do the EBI (effective behavioral intervention) Many Men, Many Voices. Before that, we were doing Partners in Prevention. And we're still investigating some new stuff for men of color -- black gay men of color -- that are supposedly coming down the block.
We don't want something that's, like, just blackface. We don't want something that, you know, they'd say, "Well, this is designed for African-American men." We really want something that's going to work. And Many Men, Many Voices is good, and it's filling a void right now. But I think we can still do better.
So we do that. And then we have our transgender outreach --