Oh My God, We Made a Person
By Brooke Davidoff

October 14, 2010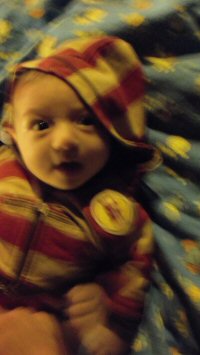 Myles at nearly 3 months.
I am totally in awe of my son. I never imagined the emotions that came with parenthood. I had no idea how in love with him I would instantly be.
I never babysat when I was younger; my youngest sibling is only four years younger than I am. To be honest I was horrified to be a parent. I had no idea what to do with a baby. I went to NO parent-to-be classes. I was too mentally enveloped in the recent tragic loss of my father, and still coming to terms with being HIV positive, on top of being recently evicted. A baby was hard to think about and even fathom.
The Hospital
The last time I had been in a hospital was not long enough ago, and the person I went to see did not live to make it out. I was not afraid I was going to die; I was so full of hospital memories it was hard to separate myself from them. We walked into the baby ward; however, in my mind I saw the Burn ICU floor that my father died on only months before.
My husband and I arrived at 7am on July 15. We checked in and were brought into a pre-op room. I was asked to change into a sexy hospital gown and put into a bed in a dark cold gray room with no windows, and no TV. I was hooked up to an AZT IV and one of saline solution.
Advertisement
We sat in this room for more than four hours. We talked to numerous doctors, nurses, and anesthesiologists about what was going to happen. I was hooked up to a heart monitor and a contraction machine. Apparently I had been having contractions for more than a week, I just thought the baby was moving around a lot. I signed all sorts of paperwork that I did not read. I made my husband my power of attorney, in case something happened to me.
Every person who walked into my room introduced themselves, and then let me know they had read my columns on this Web site.
Nervousness came in waves, from thinking this was a dream, to excitement, and then fear. I was so afraid of the spinal. I hate needles, and I am afraid of pain.
Finally I was wheeled into the operating room, where I met more people who had been reading my columns before showing up to cut me open. My husband was left behind and given scrubs to get into. I was instructed to get out of the bed I had been wheeled into the room in, and get onto the operating table. It reminded me of movies about alien abductions. The table also resembles the one Death Row inmates are strapped to when they are getting lethal injections.
I sat down mostly naked and was told to push my back out. I held hands with some woman and hugged a pillow. I was told I would feel a little pinch. It was not half as bad as I thought it was going to be, and I think I even asked if 'that was it?'
Within minutes my legs were numb and I could not feel most of my body. I was laid down on the table under huge lights. I felt like I was on stage.
My pain meds must have kicked in because I began to feel funny, totally relaxed, and I began joking with the room full of doctors. I informed them I dyed my hair hot pink because the paparazzi wouldn't leave me alone due to my new fans from this page. In reality my sister-in-law did it because we were bored one night.
My husband was brought in; I didn't even recognize him. Maybe it was the scrubs, or the meds -- no idea.
The whole thing was a lot faster than I thought but I was also highly medicated, and time was not real for the rest of the week. Myles was born, the cord was cut, my husband cried; I looked at him, my son, still wondering what to do with a baby.
Myles Grady Robertson was born July 15, 2010 -- 7 pounds 4 ounces. They closed me up and washed him off. We were taken back to the pre-op room which was now called a recovery room. We were there until my numbing meds wore off, and I could move out of the bed I was in and into another one. This took hours and visitors were allowed in. My mother-in-law, and sister-in-law were there first. Then came my big brother and his girlfriend and our mutual best friend.
Pain meds, no food, nerves or something led to me throwing up the rest of the day. I had ice chips and beef broth, yummmm.
You sleep or you try to sleep. Some medical person comes into the room at least every four hours to check your vitals, your pee bag, the baby. They give you handfuls of pills for pain and infection. My HIV meds were given via IV the first night. The baby is given AZT -- for the first six weeks they need it twice a day, every six hours. Our times were 4 and 10. So you set an alarm for 4am to wake up your baby and give him his AZT in a medicine dropper, do it again at 10am. This gets to be a pain in the ass, but he's tested negative twice so I think we're in the clear.
I went into the hospital with a sore throat; everyone who asked me how I was feeling was informed of my sore throat. Not one person looked at it other than me once I got home from the hospital. I had red sores in the back of my throat; it hurt to eat and talk. I gargled salt water thanks to the advice of my mother-in-law and after three weeks it went away.
In the hospital, once I was given my HIV meds in pill form, they messed them up. All of you know that you cannot take Norvir without Reyataz. I had to explain that to the pharmacist and the nurse one night. Actually got into an argument with a nurse that night, and hopefully taught her to give all the HIV meds together from now on.
I was on so many pain meds I had a very hard time staying awake, remembering anything, and maintaining a conversation. Oxycontin every four hours will turn anyone stupid. I was told to take one pill every four hours for pain. I was also given a crap load of Motrin and Tylenol and told to take them as well. First of all I can say we HIV-positive people are on enough pills. Trying to save my kidneys and liver, I took as few pain meds as possible. The less I took the better I felt. That dizzy hot and sweaty drunkish feeling is fun for a few hours but come on -- for days? I was trying to learn how to take care of my son, not veg out and get pain-pill high.
I ended up taking most of my pain meds home.
The healing -- also nothing like I thought. I was up and walking by the second day. The pain of everything was minimal. The IV hurt more than anything else.
Fast Forward
My son is almost 3 months old and I'm back at work full time after my maternity leave. Myles is still negative and off his HIV preventative meds. My husband is a stay-home father, who quit his job to take care of our son rather than send him off to daycare. I'm getting back to normal. On new HIV meds and my CD4 number is still in the toilet, but as long as I don't feel or look sick life will go on like I'm normal.
---
Add Your Comment:
(Please note: Your name and comment will be public, and may even show up in
Internet search results. Be careful when providing personal information! Before
adding your comment, please
read TheBody.com's Comment Policy
.)