The HIV/AIDS Epidemic
In 2008, the HIV/AIDS prevalence in Cameroon was estimated at 5.1%, categorizing it as a generalized epidemic. The prevalence among women was higher (6.8%) than among men (4.1%) with prevalence highest in the age group between 20 and 39 years of age.
As in other parts of Sub-Saharan Africa, the HIV/AIDS pandemic has seen increasing feminization and infections among youth. In Yaoundé alone, 10.8% of women were infected at the end of 2009. Among 15 to 24 year-olds, prevalence was 4.3% in women, compared to 1.2% in men. In December, out of 228,812 pregnant women tested, 6.9% were found positive, of which only 9,092 benefited from antiretrovirals; 7,290 children exposed to the virus also benefited from medication. HIV/AIDS orphaned 122,000 children in 2005. In 2006, a national survey identified a lack of knowledge of HIV status and found that only 33% of women of reproductive age admit to having been tested and having received results.
Advertisement
Great disparities exist between urban and rural regions in Cameroon concerning HIV prevalence rates. In a 2004 national survey, the average prevalence in cities was 6.7%, compared with 4.8% in rural areas of Cameroon. This disparity can partly be attributed to the conditions in the urban settlements, underscoring the importance of addressing specific responses to the problem in the cities of Cameroon.
The Housing Crisis
Cameroon has an urban population estimated at 54% with an annual urban population growth of 5%. Yaoundé, like many other large African cities, has a population of 1.5 million and has been affected by rapid urbanization. People from rural regions come to the cities with high hopes of greater financial opportunities but are faced with a different reality when they arrive, struggling to find adequate housing and employment. Official statistics put the percentage of people living in Cameroon's slums at 57.3%, though unofficial estimates put the figure anywhere from 70% to 80%. Access to water is limited to only 37.5% of the population, while electricity is much more available at 70%.
In this context of precarious housing conditions, opportunistic infection and HIV thrive. Poor access to water and sanitation increase opportunistic infection. Living in close quarters exposes children to early sexual activity and risky behavior.
People living in slums are faced with instability and are more vulnerable to forced evictions, expropriation, and dispossession. In Cameroon, forced eviction without resettlement or compensation is increasing. Very often little or no notice is given prior to eviction and demolition. In a survey conducted in 2007 in the community of Messa Carrière in Yaoundé, it was found that many people left for work in the morning only to come back and find their homes demolished and their possessions missing.
Women are made more vulnerable in these types of situations because they continue to experience discrimination in terms of housing, land tenure, access to land, inheritance, and access to information regarding their housing rights. HIV/AIDS renders women even more susceptible to housing and land insecurity. Lack of information and cultural practice around inheritance are especially problematic for women. Without land tenure, women's housing investments are at risk. If a woman cultivates her husband's or his family's land or lives in a house belonging to her husband, she is at risk of being dispossessed of her housing in the event of her husband's AIDS-related death.
Institutional Response & Solutions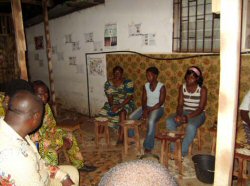 Social Spaces meeting.
Cameroon's government has adopted a multi-sector approach to HIV that involves the main actors from the public, private, non-governmental, local, regional, and national sectors. Most of its HIV/AIDS program consists of basic activities that respond more specifically to the needs of the particular communities. The national government has prioritized urban areas, where most of Cameroon's population is concentrated. They have geared awareness campaigns toward groups most at risk and areas where people are most vulnerable, including establishments that serve alcohol, hotels, internet cafés, stations, beauty shops, and, most of all, slums. The national response has committed to restructuring squatter areas and improving environmental and living conditions to promote healthier lives.
The main objectives of the plan are to reduce the rate of infection in the general population, increase universal access to treatment for PLWHA, and reduce the global impact of HIV/AIDS on orphans and vulnerable children (OVC). In order to achieve these objectives, six strategies have been identified. The first is to grant universal access to prevention in favor of target priority groups, including consultation and testing, prevention and taking care of PLWHA, condom use promotion, prevention of mother-to-child transmission, and the reinforcement of prevention strategies toward youth. The plan also aims to grant universal access to treatment and care to children and adults living with HIV, protection and support of OVC, the appropriation of the fight against HIV by main actors, promotion of research and epidemiologic surveillance, and finally to strengthen the coordination and management of partnerships, follow-up, and evaluation.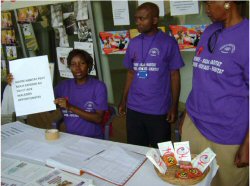 World AIDS Day 2010: "Where we live can cause AIDS and opportunistic infection."
Coalition des ONG et OCB du Cameroun oeuvrant dans le domaine des établissements humains (CONGEH), a coalition of 30 NGOs and community-based organizations (CBOs) committed to improving housing and human settlement conditions, has adopted a Gender, AIDS and Habitat (GSH) mainstreaming approach in all of its program activities, such as the FOCAH loan fund and the Land Consultation Clinics. GSH recognizes that women are disproportionately affected by poverty and inadequate housing. These disparities are compounded by HIV/AIDS, which further decreases their economic power and in turn has a profound effect on living conditions and habitat. The Social Spaces are an example of an initiative that stimulates community-based initiative and discussion, in particular to improve women's access to income-generating activities. The Social Spaces allow CONGEH to mobilize community leaders from within its network of organizations working on human settlements. It is a community space designed to reflect its community: its issues, resources, background, and local political context. Created in the grassroots, it has a legitimacy to respond to HIV issues and all other issues around women, youth, and housing.
Advocate testimony provided by Coalition des ONG et OCB du Cameroun oeuvrant dans le domaine des établissements humains (CONGEH). Photos provided by Priya Gopalen of Rooftops Canada / Abri International.
Sources
CONGEH, Le lien entre le Genre, le VIH/SIDA et l'Habitat: Document de référence, CONGEH et Fonds Genre et Développement de la Coopération Canadienne au Cameroun, 2004.
Mosoko, Jembia J. and Gislaine A.N. Affana, Prévalence du VIH et facteurs associés, 2004.
National AIDS Control Committee, Cameroon: Mise en oeuvre de la déclaration d'engagement sur le VIH/Sida : Rapport de progrès N°3, Republic of Cameroon, 2007.
Republic of Cameroon, Ministry of Public Health, Plan stratégique national de lutte contre le VIH/SIDA 2006-2010.
UNGASS Country Progress Report: Cameroon, 2010.
UN-Habitat, Cameroun: Profil urbain de Yaoundé, 2010.
UN-Habitat, Cameroun: Profil urbain national du Cameroun, 2010.