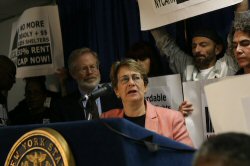 Glick denounces Paterson's move.
Following last week's civil disobedience
arrests
, at least 60 people packed a State Senate hearing room in New York City this morning to pledge their continued fight against Gov. Paterson's veto of the
30 percent rent cap
bill.
"This is not the end of the road," said Assemblywoman Deborah Glick during the press conference, organized by NYCAHN-VOCAL at the 250 Broadway building by City Hall. "While the governor may have thought he walked away from this, we are going to take it back to him."
Calling a legislative override of Paterson's stunning veto a "tough road" as he heads out of office, she vowed to continue fighting for the bill's passage once a new governor comes to office in January.
Advertisement
Glick and Assembly Member Dick Gottfried, Senator Liz Krueger, and City Council Speaker Christine Quinn all gave speeches in support of the bill.
Those who will be directly affected by the veto crowded the room, hugging legislators in attendance.
Wanda Hernandez, a NYCAHN-VOCAL board member, spent years working two jobs and paying taxes toward a safety net she thought would protect her in an emergency. But when sickness due to HIV/AIDS forced her to stop working, she found herself paying 71 percent of her disability check toward rent. Often unable to afford a metro card, she canceled doctor visits, skimped on toiletries and, unable to pay for small social activities, found herself increasingly alone. "It only increased the social isolation associated with HIV/AIDS."
The 30 percent rent cap bill would have changed that, capping rent at 30 percent for all people who receive housing assistance through the state's HIV/AIDS Services Administration. Almost all people in subsidized housing already benefit from such a cap.
"We know access to housing is critical to health," said Gina Quattrochi, executive director at Bailey House, a nonprofit that provides services for low-income people with HIV. "Goddamn it, it's in the National HIV/AIDS Strategy!"
Sign the petition urging Gov. Paterson to work with the legislature to approve the 30 percent rent cap bill before he leaving office. See photos of today's event.