More Than Just a Roof Over My Head: Housing for People Living With HIV/AIDS Around the World
July 2010
Table of Contents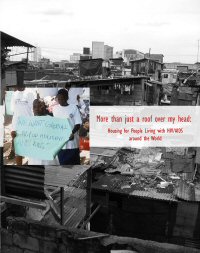 Cover photos: Shelter and Settlements Alternatives, Uganda; John J. Carrol Institute on Church and Social Issues, the Philippines.
Developing Countries



Latin America and the Caribbean are highly urbanized: 75% of the population -- and 60% of the poor -- lives in cities. Latin America is the world?s most economically unequal region. The HIV epidemic in the region is low-level and concentrated among certain populations with a regional prevalence of 0.6%.


Southeastern Asia has the highest number of urban poor in the world. India accounts for 17% of the global slum population and half of Asia?s HIV prevalence. The Philippines, which is expected to be 80% urbanized by 2030, has experienced a recent increase in HIV infection even though overall prevalence is low.


Sub-Saharan Africa is the most rapidly urbanizing region; it is also the region with the highest slum prevalence and lowest access to safe water in the world. Approximately 70% of its urban residents are poor, while 60% of PLWHA are in Sub-Saharan Africa.



Developed Countries



Australia, the United Kingdom, and the United States, while boasting higher human development indexes and fewer informal settlements, still suffers from high economic inequalities and a generalized lack of affordable housing. The consequences of global migration patterns and the legacies of colonialism, racism and homophobia on PLWHA often place the most burdens on marginalized immigrant communities, MSM and people of color in terms of accessing affordable housing, secure employment, and adequate prevention and treatment services.



Annexes


Preface
The following document examines the relationship between HIV/AIDS and housing instability in various communities, cities, and nations across the globe. The majority of the text was provided by advocates working on the ground in their communities and affiliated with the National AIDS Housing Coalition through the International AIDS Housing Roundtable; their organizations are cited and their testimonies were supplemented by data and information from UNAIDS, UN-Habitat, as well as other institutions and peer-reviewed articles. Names are withheld from personal testimony to protect confidentiality.
This report was made possible through the generous support of the Ford Foundation. Special thanks to Kathie Hiers of AIDS Alabama for proofreading and editing earlier versions of this document.
---

This article was provided by
National AIDS Housing Coalition
. Visit
NAHC's website
to find out more about their activities and publications.
---
| | |
| --- | --- |
| No comments have been made. | |
Add Your Comment:
(Please note: Your name and comment will be public, and may even show up in
Internet search results. Be careful when providing personal information! Before
adding your comment, please
read TheBody.com's Comment Policy
.)