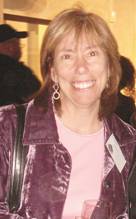 Claire Diane Borkert, 59, a prominent San Francisco Bay Area AIDS physician, died peacefully at her home in El Granada, California, on June 24, from cancer. A gifted doctor and natural conciliator, she devoted her professional life to the service of others, first as a social worker and then as an Internal Medicine physician. For the last 18 years, she served as the medical co-director of the East Bay AIDS Center (EBAC) at Alta Bates Summit Medical Center, where she was also on the medical staff.
Claire was born in Memphis, Tennessee, the middle of five daughters of Jean and the late Sidney Borkert. She obtained her undergraduate degree at Memphis State University and her Masters in Social Work from University of Louisville, and then spent her early career as a social worker in Tennessee and Arizona. She also lived in San Diego and San Francisco before returning to Memphis, where she completed her medical degree at the University of Tennessee in 1988. Claire did medical rotations in Tennessee, Mississippi and Alaska before completing her residency at Highland General Hospital in Oakland, California. She subsequently worked at the Over 60 and the Native American Health Centers, and Kaiser and Highland Hospitals before joining EBAC.
View Full Article
Comment by: Steve L.
(Sacramento, CA) Thu., Nov. 15, 2012 at 2:57 pm UTC
This is so sad. Claire was the best doctor I have ever had. I'm glad she was able to do what she enjoyed and believed in.
(Please note: Your name and comment will be public, and may even show up in
Internet search results. Be careful when providing personal information! Before
adding your comment, please
read TheBody.com's Comment Policy
.)