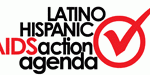 Co-chaired by the National Latino/Hispanic AIDS Action Agenda (NLAAN) and the Latino Commission on AIDS, this all-day institute reviewed epidemiological data on the epidemic, discussed the needs of the Latino/a community, and analyzed future recommendations and priority policy items for federal, local, and state government in reaction to the National HIV/AIDS Strategy. In the afternoon, participants had four break-out sessions that focused on solidifying recommendations and action steps to push the Latino/a agenda forward at the national level. Major issues discussed include immigration, cultural competency, provider trainings, capacity, prevention models/interventions, and the specific needs of trans women and men who have sex with men. Two requests were made: 1. to start regional advocacy workgroups at the state level and 2. to scale up civic engagement for the November 2nd, mid term state and federal elections. For more information on the working groups and previous documents submitted by NLAAN, please visit www.latinoaidsagenda.org.
Sonia Rastogi is the PWN communications action team coordinator.
Return to USCA 2010 Reports.
(Please note: Your name and comment will be public, and may even show up in
Internet search results. Be careful when providing personal information! Before
adding your comment, please
read TheBody.com's Comment Policy
.)