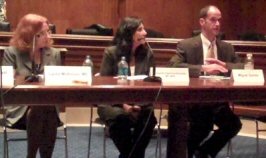 Lynne Mofenson, NIH, Margarita Figueroa-Gonzalez, HRSA, & Miguel Gomez, AIDS.gov.
Yesterday I had the pleasure of participating in a Congressional briefing sponsored by amfAR, HIV/AIDS and Youth: Moving Toward an HIV-Free Generation. During my presentation, "Youth HIV/AIDS Education 2.0: Applying New Media to Extend the Reach of HIV/AIDS Programs" (you can view the presentation slides on SlideShare ), I addressed four major themes:
Theme 1: New media is about reaching people where there are. And many youth are online or on their phones (or both!)
The Pew Internet & American Life Project is a great resource for data on internet and mobile use among teens and other age groups. According to their report on teens and mobile phones , 93% of teens ages 12-17 and young adults ages 18-29 are online. Pew also found that 75% of teens own a cell phone and teens send an average of 50 text messages per day.
Theme 2: Not only are youth online now, but they've ALWAYS been online.
"Digital Natives", as defined by John Palfrey and Urs Gasser in their book, Born Digital , refers to, "a person born into the digital age (after 1980) who has access to networked digital technologies and strong computer skills and knowledge." Most youth in America have grown up in an environment where they are always connected. This impacts how they communicate with each other and informs how we communicate and connect with them about HIV/AIDS.
Advertisement
Theme 3: It's about planning.
As with all of our activities, working with and for young audiences involves planning. It requires knowing who your audiences are, defining your objectives and messages, and then selecting appropriate technologies.
Theme 4: We have nothing to fear, but fear itself.
With respect to youth and technology, it's important to consider and understand some of the challenges and potential hazards, such as sexting , cyber-bullying , and e-grounding . But equally important is recognizing the potential opportunities for youth to connect, collaborate, and create solutions to these challenges. A recent New York Times article about techno-literacy noted, "If we listen to technology, and learn to be proficient in its ways, then we'll be able to harness this most powerful force in the world. If not, we'll be stuck at the bottom of the class."
Because new media is largely user-driven, youth have more opportunities to shape their experiences in online space. The Online Safety and Technology Workgroup underscores this in its recent report, "Youth Safety on a Living Internet: Report of the Online Safety and Technology Working Group"(PDF, 1.61 MB), where they emphasize the importance of respecting the expertise of young people and recommend getting them involved in their own risk-prevention education and activities. The report also recommends that the Federal Government coordinate its education efforts and that a web-based clearinghouse be created to stay abreast of youth-risk and social-media research.
You can view the slides from this presentation on Slideshare.
Miguel Gomez is the AIDS.gov director.