Tales From Vienna: The World's AIDS Community Converges Upon Vienna for the International AIDS Conference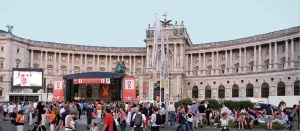 Conference attendees gather at the Human Rights Rally and March held at Heldenplatz in Vienna.
More than 16,000 delegates traveled to Vienna, Austria for the 18th International AIDS Conference held in July. Abstracts (summaries) and many webcasts are available at
www.aids2010.org
.
Leading the news from the conference: the first ever antiviral-based gel to show effectiveness in preventing HIV in women.
A New Weapon Women Can Use Against the Virus
Doctors don't usually get a standing ovation when presenting data from a study, but Dr. Quarraisha Abdool Karim did.
She presented study results showing a 39% decrease in HIV infections in women using a vaginal gel containing tenofovir, an anti-HIV medication. The gel was used up to 12 hours before sex and again afterwards.
Moreover, in women who used the microbicide (germ-killing) gel in 80% of the incidences of sexual intercourse, there was a 51% reduction in infection. These women made up the majority of the participants using the gel.
A smaller group of women using the gel less than half the time had a lower success rate, a 28% reduction in infection, but this is still one in four women remaining uninfected.
In addition, the gel prevented herpes infection in 54% of women.
After years of disappointing results with microbicide research, advocates around the world expressed elation. "Goooooal!" wrote Science reporter Jon Cohen.
Nearly 900 women participated in the study at the Centre for the AIDS Programme of Research in South Africa (CAPRISA), with the major funder being USAID (U.S. Agency for International Development).
The U.S. and South African governments were the primary forces behind the study. Dr. Abdool Karim is with Columbia University and associate director of CAPRISA, where her husband, Dr. Salim S. Abdool Karim is director. He is also a vice-chancellor at the University of KwaZulu-Natal (UKZN) in South Africa.
In a UKZN press release, Dr. Quarraisha Abdool Karim says that, "Tenofovir gel could fill an important HIV prevention gap by empowering women who are unable to successfully negotiate mutual faithfulness or condom use with their male partners. This new technology has the potential to alter the course of the HIV epidemic, especially in southern Africa where young women bear the brunt of this devastating disease."
A YouTube video of interviews with some of the women and medical providers in the study, entitled "Gabi's Gift," is available, along with other information on the results, at www.caprisa.org. In it, Gabi Nxele explains that a friend died of AIDS and participating in the study was her gift to the women of the world.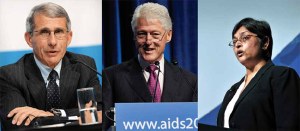 Anthony Fauci at the CAPRISA press conference. Former president Bill Clinton. Columbia University's Quarraisha Abdool Karim.
A mathematical model presented at the conference estimated that "a vaginal microbicide with an efficacy of 40% to 50% could prevent between 271,000 and 602,000 new HIV infections in 10 years [in South African women] depending on coverage." This depends on the gel's effectiveness being confirmed in further research. For example, a tenofovir gel combined with pills is being studied by the Microbicide Trials Network (MTN). The model also depends on the gel becoming available within five years.
In the CAPRISA study, usage fell off over time. There was a 50% prevention rate in the first year, which went down to 39% for the entire two and a half years of the study. The success rate was compared against women who were given a placebo gel (no active substance).
Tenofovir is available as an HIV drug called Viread, and is in the HIV medications Truvada and Atripla, both best-selling compounds. It is also being studied as a prevention pill for HIV-negative people at high risk of infection. There's long been hope and excitement for tenofovir, and Truvada, to help in the prevention of HIV during sexual encounters. Newer HIV drugs are also being studied for this purpose.
Two U.S.-based organizations, FHI (Family Health International) and CONRAD (Contraceptive Research and Development Program), collaborated with CAPRISA. MTN reported that Gilead Sciences, which makes tenofovir, initially created the gel and granted a royalty-free license for it to CONRAD and to the International Partnership for Microbicides. Gilead provided tenofovir for free to MTN.
CONRAD is a division of the Department of Obstetrics and Gynecology at Eastern Virginia Medical School, with a mission to help rapidly develop safe, affordable, and effective products for contraception and prevention of sexually transmitted HIV and other infections.
CONRAD offered to lead the movement to have the gel released as soon as possible if it continues to show effectiveness. Advocates noted that government regulations around the world prevent the availability of products for years after they are found to be effective.
The study publication is available free online at www.sciencemag.com.
The Vienna Declaration
It's time to stop the harmful laws and discrimination associated with the international war against drugs, according to doctors, researchers, and advocates who created the Vienna Declaration. The statement urges the promotion of syringe exchange and other proven methods of protecting health.
Advertisement
"The criminalization of illicit drug users is fuelling the HIV epidemic and has resulted in overwhelmingly negative health and social consequences," they wrote. "A full policy reorientation is needed."
The declaration goes on to briefly review the history of this war on drugs and discuss its failings.
Among the problems discussed is a high rate of HIV among injection drug users (IDUs) in areas of the world where the virus is "spreading rapidly." In Eastern Europe and Central Asia, as many as 70% of IDUs become infected, and in some areas, more than 80% of this group acquires HIV.
"In the context of overwhelming evidence that drug law enforcement has failed to achieve its stated objectives, it is important that its harmful consequences be acknowledged and addressed," the declaration continues.
The following points, taken directly from the declaration, represent some of the consequences of the war on drugs:
A crisis in criminal justice systems as a result of record incarceration rates in a number of nations. This has negatively affected the social functioning of entire communities. While racial disparities in incarceration rates for drug offences are evident in countries all over the world, the impact has been particularly severe in the U.S., where approximately one in nine African American males between the ages of 20 to 34 is incarcerated on any given day, primarily as a result of drug law enforcement.
Stigma towards people who use illicit drugs, which reinforces the political popularity of criminalizing drug users and undermines HIV prevention and other health promotion efforts.
Severe human rights violations, including torture, forced labor, inhumane and degrading treatment, and execution of drug offenders in a number of countries.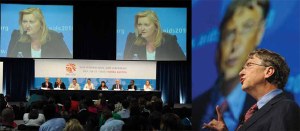 Brigitte Schmied was among the presenters at the opening press conference. Bill Gates discusses HIV prevention strategies.
"Unfortunately, evidence of the failure of drug prohibition to achieve its stated goals, as well as the severe negative consequences of these policies, is often denied by those with vested interests in maintaining the status quo," the declaration says. "This has created confusion among the public and has cost countless lives. Governments and international organizations have ethical and legal obligations to respond to this crisis and must seek to enact alternative evidence-based strategies that can effectively reduce the harms of drugs without creating harms of their own." The document goes on to make several recommendations.
The declaration also notes that, "Basing drug policies on scientific evidence will not eliminate drug use or the problems stemming from drug injecting. However, reorienting drug policies towards evidence-based approaches that respect, protect, and fulfill human rights has the potential to reduce harms deriving from current policies and would allow for the redirection of the vast financial resources towards where they are needed most: implementing and evaluating evidence-based prevention, regulatory, treatment and harm reduction interventions."
Individuals and organizations are invited to sign the Vienna Declaration at www.viennadeclaration.com.
572 Integrase Inhibitor
The HIV integrase inhibitor drug S/GSK1349572 (572 for short) continued forward in development. 572 may help people who develop drug resistance to Isentress, an integrase inhibitor already on the market.
ViiV Healthcare, which is developing 572, also has another integrase inhibitor in the works. The options are important because some people may need a new drug to turn to if an older drug stops working for them.
Two other advantages with 572: once-daily dosing compared to twice a day for the very popular Isentress and no need for a boosting drug as with another integrase inhibitor in development, elvitegravir.
Interim 16-week results of a Phase 2b study, called SPRING-1, were presented. The study is scheduled to go for 24 weeks.
Three doses of 572 (10, 25, and 50 mg) all resulted in strong viral load decreases. More than 96% of participants on all doses (150 individuals) reached viral loads of less than 50 copies per ml (undetectable) at week 16. They also had a T-cell increase of more than 150.
572 was compared to Sustiva (efavirenz), a best-selling HIV medication from another drug class. Both were taken with either Combivir or Truvada.
As with the other two integrase inhibitors mentioned above, there was a shorter time to reaching undetectable viral load with 572. Rapid decrease in viral load is a class effect of the integrase inhibitors. Study participants were also taking HIV medication for the first time, which means they are likely to show the best results.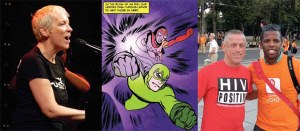 Annie Lennox performs at the rally. Comic book heroes Methadone Man and Buprenorphine Babe. PA Editor Jeff Berry with a friend.
ViiV Healthcare announced that it would move into advanced Phase 3 studies with the 50 mg dose, a decision questioned by treatment advocates, who wondered why the highest dose was selected when all three doses performed about the same.
A representative for ViiV Healthcare said that generally, higher doses provide a higher barrier to drug resistance and the promise of greater durability. "We believe we can rescue some of those people [who have a greater amount of drug resistance] with a higher dose," said Dr. Garrett Nichols of GlaxoSmithKline, which combined their HIV work with Pfizer to create ViiV Healthcare.
572 and Drug Resistance
572 drug resistance patterns were looked at in ViiV Healthcare's VIKING study, reported in Vienna by Dr. Joseph Eron of the University of North Carolina (Abstract MOAB0105).
There were 27 study participants, all of whom had HIV that was growing resistant to their Isentress. In addition, they also had drug resistance to two other classes of HIV medications. Participants started out with a viral load of more than 1,000. The median viral load (half above, half below) was 30,000. Their Isentress was switched to 572 and results at 11 days were reported.
Once again, it's important to know the results of drug resistance testing when a patient is looking to change to another HIV medication.
In short, there was success in overcoming Isentress resistance with 572 in all 16 of the individuals with a drug resistant pattern of N155H, Y143H, or Q148 single mutant pathways and in three of four individuals with Q148 plus one mutation.
In none of the five individuals with Q148 plus two or more drug resistant mutations was there success.
So, to date, you don't want to see more than two mutations at the Q148 codon on a resistance test. All but one of the other individuals in the study succeeded in meeting the study endpoint -- viral load of less than 400 or a greater than .7 log drop (a five-fold decrease) in viral load.
All in all, after 11 days, 21 of the 27 individuals had viral loads of less than 400.
For those whose viral load begins rising while using Isentress, they may want to stop while they're ahead, before their virus develops more and more resistance.
More Good Drug News: TMC278
TMC278 (generic name rilpivirine) is a non-nucleoside analog (like Sustiva) in Phase 3 (advanced) study.
Advertisement
Results from two large Phase 3 studies of TMC278 were put together for a presentation on the drug. The bottom line: TMC278 was found to be non-inferior to the kingpin Sustiva.
These are advanced 48-week results from 1,368 patients. They started out with a median viral load of 100,000 and T-cells of 256.
There was virologic failure (a lack of adequate viral load suppression under study standard) in 9% of people using TMC278 vs. 4.8% of those taking Sustiva, but this was offset by a greater rate of discontinuation due to adverse events with Sustiva. The discontinuation due to adverse events was 3.4% for TMC278 vs. 7.6% for Sustiva.
The lower rate of lipid elevations with TMC278 (total cholesterol, LDL-cholesterol, and triglycerides) was also statistically significant.
Tibotec Therapeutics, the developer of TMC278, is working to combine it with Truvada from Gilead Sciences. The three-in-one pill would compete with the top-selling Atripla, which combines Truvada with Sustiva.
Tibotec submitted its New Drug Application (NDA) for TMC278 to the FDA on July 26. They also currently have a non-nucleoside drug on the market, Intelence (etravirine). TMC278 is taken once daily as opposed to twice a day for Intelence.
Got a comment on this article? Write to us at publications@tpan.com.