Tales From Vienna: The World's AIDS Community Converges Upon Vienna for the International AIDS Conference
572 Integrase Inhibitor
The HIV integrase inhibitor drug S/GSK1349572 (572 for short) continued forward in development. 572 may help people who develop drug resistance to Isentress, an integrase inhibitor already on the market.
ViiV Healthcare, which is developing 572, also has another integrase inhibitor in the works. The options are important because some people may need a new drug to turn to if an older drug stops working for them.
Two other advantages with 572: once-daily dosing compared to twice a day for the very popular Isentress and no need for a boosting drug as with another integrase inhibitor in development, elvitegravir.
Interim 16-week results of a Phase 2b study, called SPRING-1, were presented. The study is scheduled to go for 24 weeks.
Three doses of 572 (10, 25, and 50 mg) all resulted in strong viral load decreases. More than 96% of participants on all doses (150 individuals) reached viral loads of less than 50 copies per ml (undetectable) at week 16. They also had a T-cell increase of more than 150.
572 was compared to Sustiva (efavirenz), a best-selling HIV medication from another drug class. Both were taken with either Combivir or Truvada.
As with the other two integrase inhibitors mentioned above, there was a shorter time to reaching undetectable viral load with 572. Rapid decrease in viral load is a class effect of the integrase inhibitors. Study participants were also taking HIV medication for the first time, which means they are likely to show the best results.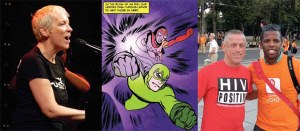 Annie Lennox performs at the rally. Comic book heroes Methadone Man and Buprenorphine Babe. PA Editor Jeff Berry with a friend.
ViiV Healthcare announced that it would move into advanced Phase 3 studies with the 50 mg dose, a decision questioned by treatment advocates, who wondered why the highest dose was selected when all three doses performed about the same.
A representative for ViiV Healthcare said that generally, higher doses provide a higher barrier to drug resistance and the promise of greater durability. "We believe we can rescue some of those people [who have a greater amount of drug resistance] with a higher dose," said Dr. Garrett Nichols of GlaxoSmithKline, which combined their HIV work with Pfizer to create ViiV Healthcare.
572 and Drug Resistance
572 drug resistance patterns were looked at in ViiV Healthcare's VIKING study, reported in Vienna by Dr. Joseph Eron of the University of North Carolina (Abstract MOAB0105).
There were 27 study participants, all of whom had HIV that was growing resistant to their Isentress. In addition, they also had drug resistance to two other classes of HIV medications. Participants started out with a viral load of more than 1,000. The median viral load (half above, half below) was 30,000. Their Isentress was switched to 572 and results at 11 days were reported.
Once again, it's important to know the results of drug resistance testing when a patient is looking to change to another HIV medication.
In short, there was success in overcoming Isentress resistance with 572 in all 16 of the individuals with a drug resistant pattern of N155H, Y143H, or Q148 single mutant pathways and in three of four individuals with Q148 plus one mutation.
In none of the five individuals with Q148 plus two or more drug resistant mutations was there success.
So, to date, you don't want to see more than two mutations at the Q148 codon on a resistance test. All but one of the other individuals in the study succeeded in meeting the study endpoint -- viral load of less than 400 or a greater than .7 log drop (a five-fold decrease) in viral load.
All in all, after 11 days, 21 of the 27 individuals had viral loads of less than 400.
For those whose viral load begins rising while using Isentress, they may want to stop while they're ahead, before their virus develops more and more resistance.
More Good Drug News: TMC278
TMC278 (generic name rilpivirine) is a non-nucleoside analog (like Sustiva) in Phase 3 (advanced) study.
Advertisement
Results from two large Phase 3 studies of TMC278 were put together for a presentation on the drug. The bottom line: TMC278 was found to be non-inferior to the kingpin Sustiva.
These are advanced 48-week results from 1,368 patients. They started out with a median viral load of 100,000 and T-cells of 256.
There was virologic failure (a lack of adequate viral load suppression under study standard) in 9% of people using TMC278 vs. 4.8% of those taking Sustiva, but this was offset by a greater rate of discontinuation due to adverse events with Sustiva. The discontinuation due to adverse events was 3.4% for TMC278 vs. 7.6% for Sustiva.
The lower rate of lipid elevations with TMC278 (total cholesterol, LDL-cholesterol, and triglycerides) was also statistically significant.
Tibotec Therapeutics, the developer of TMC278, is working to combine it with Truvada from Gilead Sciences. The three-in-one pill would compete with the top-selling Atripla, which combines Truvada with Sustiva.
Tibotec submitted its New Drug Application (NDA) for TMC278 to the FDA on July 26. They also currently have a non-nucleoside drug on the market, Intelence (etravirine). TMC278 is taken once daily as opposed to twice a day for Intelence.
Got a comment on this article? Write to us at publications@tpan.com.