The "Gender Problem" in HIV Policy Making: No Women at the Table
An Interview With E. Tyler Crone of ATHENA
September 29, 2010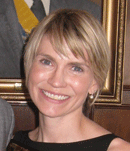 E. Tyler Crone, J.D., M.P.H.
While the CAPRISA microbicide study dominated most of the news coming out of the International AIDS Conference in Vienna this summer, an impressive report that addressed the needs of women went under the radar. Transforming the National AIDS Response: Advancing Women's Leadership and Participation highlighted the serious need for more female leadership, participation in policy making and funding for grassroots HIV initiatives and programs that focus on women.
Researchers from the United Nations Development Fund for Women (UNIFEM) and the ATHENA Network note that while the face of the global AIDS epidemic is female, there is an alarming lack of female leadership in decision making, especially among HIV-positive women. In an effort to better understand why this gap exists, they conducted more than 100 in-depth interviews with leaders and decision makers; examined existing literature and case studies; and surveyed women living with HIV and affected by HIV from around the world.
Advertisement
I sat down with E. Tyler Crone, J.D., M.P.H., ATHENA's coordinating director, to talk about the report's findings. We also discussed how sexism plays a negative and impactful role in HIV policy making, and what can be done to ensure that more positive women get a seat at the table.
How did Transforming the National AIDS Response come about?
Around 2007, there was a lot of rhetoric about how globally, AIDS is bearing a woman's face and how more women need to be at the table when making HIV policies. Which was a great thing, but many of us were interested in where all of this rhetoric was going. How were they were going to reach women for inclusion, how were these policies and strategies going to be viewed through a gendered lens and how many women were really at the table? As we went into more detail we saw that there was such little data, it was clear that our fears were true -- women were absent. And we wanted to do something about that.
Why is women's participation so crucial in developing gender competent and effective strategies?
A great HIV-positive colleague of mine from Canada told me that positive women are the knowledge brokers and if they sit at the table at a decision making forum, they can say how this decision affects communities who are living with or affected with HIV. They can see the blind spots of policies, attest to their shortcomings, and speak on unintended consequences that they live out because the policies don't take into account certain things.
So, let me give you an example of what happens when women are not involved. In the very early stages of trying to prevent vertical transmission, HIV positive women and women advocates were not made part of that process. First, it was originally called mother-to-child transmission (and still is), which places the blame on the women and goes back to the notion of women being vessels for children. This attitude translated into a huge failure because they were only providing the mothers a short course of antiretroviral drugs during delivery.
So there were drugs to save the baby, but nothing for the mothers -- that approach was only going to create a generation of orphans. These policy makers did not understand that you need to keep the women healthy to support the family. So when more critique came forward and more positive women were explaining to them how this strategy was playing out in their everyday lives and how these programs were reinforcing the stigma around women, the policy makers changed the entry point as to when women would start treatment.
But once again, it was short-sighted. And as more positive women spoke out, they were clear that putting them on treatment was a good thing, but if her partner or other children were infected and were not getting access to medicines, the woman was going to be forced or would willingly share her drugs and take care of everyone else.
Policies that are formed without the perspective or expertise of lived experience fall short -- and these shortcomings happen way too often.
One of the report findings was that when women are at the table, many male leaders treat that participation more as a privilege rather than a right.
Yes, they do. And what ends up happening is that at the eleventh hour, after the meeting agenda is formulated without your input, women are invited in. They will call you on a Friday and ask you to be part of a two-day meeting starting for that next Tuesday. They expect you drop everything -- not caring about child care arrangements -- to show up for a meeting that could be thousands of miles if not across the world.
You have had no time to prepare; you were not part of creating the agenda, so you cannot make any changes to it to include anything new; and it's hard to suggest anyone else who should be in on the conversation that could help elevate the discourse. You haven't even had time to consult with or e-mail the women in your community to get their input or ideas of what you should be talking about.
When you get there you are exhausted, jetlagged and upset -- so you come from a place of complaint, which makes it hard to build any alliances with others. You sit in a stuffy conference room at a long table where no one is looking each other in the eyes because the presentations are in PowerPoint. This environment is very intimidating, especially when everyone is speaking in acronyms that only the well-versed would understand.
I have been doing this work since the early 90s and have a background in public health and law, and there have been times where I have been completely spent by techno speak and lingo. So for the women who are doing amazing work in their communities, but have little formal education, there is no way that they can keep up or have the opportunity in these settings to meaningfully share their knowledge and influence the decisions being made.
It's just a disempowering experience. And for the women who are on the circuit, it keeps happening over and over and over again.
More From This Resource Center
---

This article was provided by TheBody.
---
Add Your Comment:
(Please note: Your name and comment will be public, and may even show up in
Internet search results. Be careful when providing personal information! Before
adding your comment, please
read TheBody.com's Comment Policy
.)