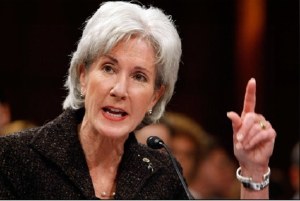 At least 3,423 await lifesaving medication. Sebelius can change that.
Outraged that the Obama administration has done little to address the nation's growing AIDS drug access
crisis
, more than 60 activists interrupted a high-profile luncheon headlined by Secretary of Health and Human Services Kathleen Sebelius at the U.S. Conference on AIDS.
"Sebelius, don't let us down!" they chanted, streaming through a ballroom inside Orlando's Bonnet Creek Hilton. "Don't let us die!"
Activists are demanding that the Obama administration channel an additional $101 million dollars to fund the nation's AIDS Drug Access Programs (ADAPs), the joint state-federal programs that provide underinsured people with life-sustaining HIV/AIDS medications. As head of Health and Human Services, Sebelius oversees ADAP and will play a lead role in the administration of the National HIV/AIDS Strategy.
In short, she has the power to push for a solution.
"This is about saving lives," said Joey Terrill, 54, who for nearly 15 years has relied on California's ADAP to provide him with his antiretrovirals. "We can't balance the state budget on the state's most vulnerable populations."
Advertisement
As activists packed the front section of the room today, Terrill recounted his experience on an ADAP wait list. Sebelius looked on. Audience members clapped in support.
As of Sept. 9, there were 3,423 people in 13 states sitting on wait lists for medications. Fourteen states have cut people from their programs or chosen to reduce the drugs they cover -- and there are countless individuals now searching desperately for a way to pay for their critical medications. Much of the problem is concentrated in Florida, the conference's host state. The Obama administration has responded with just $25 million in emergency funding.
After the rally, Sebelius gave a speech (with activists standing watch from the back, holding placards that read "ADAP = Life") where she acknowledged the urgency of the crisis -- but offered no solutions and made no financial promises.
"All the compassion in the world is not going to get people their meds," said Christine Campbell, Housing Works vice president of national policy and organizing. "She talks about urgency. But what does her urgency look like? There are not additional funds and no plan."