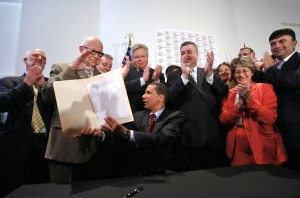 Paterson signs the Dignity Act, protecting ostracized kids across the state.
For a decade, child, health and other advocates have fought to pass statewide anti-bullying legislation -- which is why so many cheered yesterday as Gov. Paterson
signed
the Dignity for All Students Act into law.
The legislation, first introduced in 1999, will ensure that all schools have the tools in place to protect kids from harassment. The bill explicitly prohibits discrimination based on a student's actual or perceived race, color, weight, national origin, ethnic group, religion, religious practice, disability, sexual orientation, gender or sex.
The Dignity Act will protect kids like Jay Taylor, now 18. Ostracized growing up, Taylor eventually identified as transgender, but hid his identity from most classmates in his tiny Cherry Plain high school.
"The teachers would have had no idea how to deal with it," he said. When he pushed to start an LGBT alliance in school, he fought parents and administrators who shot the idea down. And when peers smeared the word "lesbian" across a friend's locker, a teacher told her "You just have to deal with it."
"There were a lot of ignorants out there, nobody had really been in any diverse areas . . . and so middle school, high school, was horrible in a sense," he said. Had the act passed earlier, "It definitely would have been different."
The Dignity for All Students Act mandates that school districts:
Revise codes of conduct and create policies that will foster a school environment free from harassment and discrimination.
Adopt guidelines to be employed in school training sessions that will raise employees awareness of these issues, educating them to respond appropriately to harassment.
Designate at least one school staff member in each institution to be trained in non-discriminatory instructional and counseling methods.
Advertisement
"It's always a long struggle," said Mark Furnish, chief legislative council for Sen. Tom Duane, who introduced the Dignity Act back in the '90s. "It takes a long time to educate not only legislators but also the public about why [non-discrimination law] is serious."
Now, gender advocates are turning their attention to the Gender Expression Nondiscrimination Act (GENDA), a bill which would protect transgender individuals under New York's existing human rights laws. Housing Works and other organizations have fought to pass it since 2003. This year it came closer to passing than ever.
"That legislation is aging," said terri smith-caronia, Housing Works vice president of New York advocacy and public policy. "In the meantime, transgender individuals are not afforded the same protections as every other minority group. That needs to change, and the wheels of justice need to turn a whole lot faster."