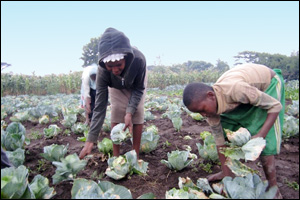 In Ethiopia, 5.4 million children are considered to be orphaned or vulnerable, according to government estimates. Many of these young people, who represent 6 percent of the country's total population, live with sick parents or no parents or adults. They often face extreme poverty, fail to finish school or are abused by adults who are supposed to be caring for them. More than 800,000 have lost one or both parents to HIV/AIDS, and an estimated 77,000 live in child-headed households.
Abraham Mehari was one of them. Before he reached school age, he lost his father to AIDS, and when he was 12, the disease took his mother. That left him and his younger brother and sister to raise themselves in their home in the town of Shashamane, located about 150 miles south of the capital, Addis Ababa.
"Especially as a child, there was so much stigma and discrimination," said the now 22-year old Mehari in a recent interview. "They bullied me because my mother died from HIV. I was trying so hard to find an organization to support me, but there wasn't anything like that."
Advertisement
So five years ago, he started one himself. Along with six other young people who had lost their parents, he founded the
Fiker Behiwot Orphans and Youth Association
, a name that means Love Life. The group, the only organization of its kind in Ethiopia, raises awareness about issues that
orphans and vulnerable children
(OVCs) face and provides assistance and support to 542 young people between the ages of eight and 17.
Most recently, Mehari turned his attention to urban gardening as a way to educate the children he serves and teach them life skills and lessons. Through the USAID Urban Gardens Program, he has established three gardens in the town of Hawassa, situated in a region with more than one million orphans.
At the largest site, on two-and-a-half acres of land donated by the government, dozens of children gather after school to water, weed and add compost to the lush mini-farm overlooking Lake Hawassa. The 141 children who take part in this program not only eat the cabbage, Swiss chard, beets, lettuce, sweet potatoes and peppers they grow but also earn money by selling the vegetables in nearby markets and shops.
"The kids get psychological support by working with other kids like them," says Mehari, standing in a patch of bright green cabbage. "Instead of spending time doing something else, they are here learning to do something for themselves. Because it's income-generating, they get both nutrition and economic benefit."
Even before first lady Michelle Obama was photographed last year breaking ground at the White House garden, urban gardening had grown in popularity in the United States. But it's rare in Ethiopia.
"I didn't like it at first," says Emebet Getachew, a tall, thin 14-year-old with braids that graze her shoulders. Speaking in Amharic through an interpreter, her arms draped around two girls her age, she said her family has struggled since her father died 11 years ago. She was referred to the garden program through an outreach program for vulnerable kids.
"I was afraid of the area because it was so close to the water, and I didn't know anything about it," she says. "But once I started working and learning, I began to enjoy it."
Mehari plans to create another garden in a nearby area in the next couple of months and will also begin construction on a community center later in the year. He says he's most proud of the two dozen members of his organization who have enrolled in colleges and universities. He's one of them: Mehari recently graduated from a postsecondary agricultural education program.