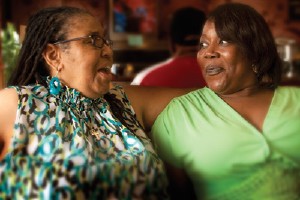 Stella Rivers-Goolsby (left) and Betty Prevo overcame issues in their lives to help other women. Photo: Chris Knight.
In the Clinical Sciences Building at the University of Illinois at Chicago, the Project WISH clinic, run by Dr. Richard Novak, provides services to women from Chicago neighborhoods with the highest HIV risks, and searches for a vaccine against the virus. Since the nearby West Side communities have a high rate of HIV infection, the clinic is strategically located.
But it's out in the streets where Project WISH does much of its work. There, outreach workers Stella Rivers-Goolsby and Betty Prevo, themselves former sex workers and intravenous drug users, talk to neighborhood women (and now men, for the newest study) about lending their bodies to science.
As a member of the Community Advisory Board (CAB) for the STEP vaccine study, I was able to sit in on a meeting of the Participant CAB. These were young women who overcame community pressure to join the search for an HIV vaccine by participating in the study.
In the first gathering of the PCAB, (see the November/December 2009 issue), I heard some disturbing things about domestic violence, both physical and emotional, that I thought must influence the rate of HIV infection and I wanted to learn more.
Another PCAB meeting recently took place, again at Edna's soul food restaurant, a community institution located off the corner of Kedzie and Madison, straight west from downtown Chicago, and we discussed some of the problems facing the community that affect the spread, treatment, and prevention of HIV.
Project WISH administrator Parrie Graham: There's a perception that people are willing to do things that put them at risk but not willing to talk about it. I'd like to know how that happens.
Shakeela: I think it's a low self-esteem issue. Some people just don't care. If you know that this can give you HIV and you do it anyway, then there's something wrong with your inner self. It could have come from things that your mother or father told you, or even your friends.
Patrice: Sometimes it comes from [misplaced] trust. I put my trust in you and the HIV thing goes out the window. Sometimes a guy physically beats you down and gets mind control. The guy says only trust him and nobody else, not even the doctor. Sometimes people don't go out [and are forced to stay at home, isolated]. Sometimes people make you do things you don't want to do.
Advertisement
Parrie: How?
Patrice: Mind control. "He smacks me, he loves me." For some people that doesn't make sense. For some people it makes a lot of sense. ["Stella's Journey" illustrates how that happens.]
Clara: What they've seen. It's known that people who see violence, like a parent who is abused -- it's more likely they become a victim, or become an abuser. So sometimes it's a learned reaction, because they think it's normal.
With low self-esteem, it comes from different ways. You might be trying to compare yourself to everybody. When you tell a child they're slow or they're stupid, people don't realize that impacts the child, no matter what age they are. When a person has low self-esteem, they tend to have destructive behavior. But really it depends on what kind of person you are, because when you tell a child to be strong, "don't worry about what other people say and think for yourself," they let things roll off their back.
Patrice: It goes back to what they were subjected to. People tell you you're ugly. You drop a plate and they say you're stupid.
Shante: My son was in the first grade and he came home one day and said, "Ma, our teacher was cursing at us!" and I said, "She was?" And he said, "Yeah!" I go there and the whole class was just in disarray, and she said, "Y'all are just a bunch of bad-ass kids." I was like, "Do you see me sitting here?! I am a parent!" She was like, "Oh, but these kids in this class, oh my god. They curse and they do everything." And I'm like, "Well, you're cursing too. My son doesn't curse, but you're cursing my son out for what other kids are doing." But it's the security guard too. He said, "Here comes his bad ass." Maybe that boy can't read and they're making fun of him, and he reacts and gets angry. The secretary in the office, she's like, "Yeah, you're a bad-ass little girl." This is the school, for real.
And then parents. I'm from the projects. Everybody's just cussing their kids. I guess that's their way of life. Generation after generation and they're all cursing -- the kids, the parents, the grandparents.
Betty (outreach worker): How does that happen, when there are people who grew up in the projects and they don't do that? They change their whole dynamic.
Shante: I have a cousin like that. Her mother was on drugs and everything. She's in the army. But it isn't a lot. So many are dead, but there are a few who have made it or actually have respect.
Parrie: We all know people in really bad situations and they turn around. Why is it that some do it and some don't?
Patrice: Some people have a positive influence in their life. Like a friend's house and they see the people in their house and they want better. So I want better too. I don't want to be like these people in my household. I don't want to be beat down so now I'm looking at these people in their household and I'm gonna strive for their goals.
Shante: After-school programs. It can be one of your friend's mamas. We were just talking about this in church Sunday. There could be a child who comes over to play with your child and you're just feeding them and loving them and all of a sudden, they want to be at your house all the time. You wake up and the child is already there: "Can I spend the night?" My preacher said not to push them away, because they might be getting their only love from you.
Clara: I came from one of those backgrounds where my momma's on drugs, my daddy's on drugs, and all that. But it takes willpower and it takes commitment to try to break down that pattern. Don't get me wrong. I did my dirt back in the day. When I got out of the penitentiary, I went to the old neighborhood, but I saw it in a different light. And I said, "Man, I refuse to let my child go through this." I just refuse to, because look at all the heartache and all the pain and everything that you did to yourself. And I couldn't blame anybody. At first you could though. At first you point to everybody. Look at what my momma did, my daddy did this, so that's why I'm like this. But the truth of the matter is, it's all about me.
Now I see people that you look up to, because they don't do drugs, they don't have [negative] influences. But then you see them on the streets again and they got influences. It just hurts your heart. I say, "Man, what is it that I got to do to straighten out?" 'Cause I ain't gonna lie. It's hard to try to sit up here and do right constantly, and then you know there're always downfalls and struggles that come your way.
At the end of the year for the past two years, I took stock of my life. If a person is not productive in my life, then I cut them out. I don't call them. It's just over with. I don't want to be stuck in the same place. You have to think, "What do you want better for yours?" I have three kids and I went back to school when I got pregnant with my first daughter and got my high school diploma.
"I made up my mind that I wanted to be something different. People always told me, 'Betty, you're smart. Why do you do the things you do?' And I was like, 'Well, I have to survive.' I had to go to therapy."
-- Betty Prevo
Shante: I think it comes from not having it when you're little. Some people are like, "I'm not going to be like this. I'm gonna go to school and I'm going to work for this," and some people are like "What?!" I think that's what happened to my brother. Once my momma moved, my brother started selling drugs. He's looking at his friends and they got the nice baseball jerseys and the Jordans, and he's walking around with the Payless, and it didn't sit well with him. But now he's 24 and he's got three kids, and he understands the value of a dollar because he works two jobs. He refuses to sell drugs again and go to jail again. I don't think they are bad people. I think it's from not having anything. And that's how people see you.
Clara: It motivates you. You decide. Some people just want to live off of you. I had people like that and you know, it hurts to turn them away. I have a good heart, but I'm paying your way and my kids are not eating right, because I'm using my money to help you out.
Shante: I think it hits people differently. I tell my sister, you could take the good and the bad that momma put us through in life, and then you could apply it to your kids. Like my momma didn't let my brothers sell drugs. They tried, but she was like, "I'm going to call the police on you, the server, the packer. I'm gonna send everybody to jail." So that's how I feel about my son. When it comes time, I'm gonna do the same thing.
My kids aren't going to see all these men, either. My kids aren't gonna have 30 uncles. (The other women laugh.) For real. My momma did that. We had 60 uncles. [Pauses.] My momma was abused and from there, I feel like after that man, she was never gonna love anybody else. So no, nobody comes before my kids. He had to eat before we ate. What?! We get food stamps. You don't get food stamps. [Everyone laughs.] My sister says Momma never did anything for us. I was like, "Baby, we were never homeless. We were never hungry." Six kids by yourself, that's a lot. I think that's why my momma always got those men who wanted to lay hands upon her, because she played those victim roles. "Oh, I've got six kids and I need help." I didn't understand that. Now I'm the only one out of all her kids that talks to my momma. And she'll call up drunk, "Ohhh, f-off all of ya mf's." I tell her, "I love you, Mom. Good night. I'll talk to you in the morning."
Clara: Your mother was there. I never knew my mother. I thought she was dead until I was 21.
Shante: My momma might as well have been dead. I cooked, I cleaned. She just stayed in the room, or made a meal for the man.
Clara: After my grandmother died, I was in foster homes and when I moved, I had those abandonment issues.
Betty: You don't know what happened to your mom. She probably thought she left you in a better place. Forgive your mother. I had to forgive mine. Even my grandmother said, "Your mom did the best she could do. Even when she ran off on a drinking binge and left you all in the house, I was there." I was the only one of four kids with a different father, and I suffered whuppings. People in the neighborhood called me names. I was always told "you are a nothing, you will always be nothing." And I believed that for the longest time, and I said, "Well, I'm gonna do the same as my momma did and I'm going to be a drunk," and I went from the drink to the drugs, until I made up my mind that I wanted to be something different. People always told me, "Betty, you're smart. Why do you do the things you do?" And I was like, "Well, I have to survive." I had to go to therapy. Therapy helped me because I was gone. And by the grace of God, I'm on this side now. A lot of stuff happened. I was molested at a young age. All that. And that was because my mom was not there. The guy who used to rape me -- my momma'd be right in the bed, drunk. She couldn't do anything. She was an alcoholic. And when I told her, she said, "You probably led him on."
Shante: My momma said the same thing. "You wanted my boyfriend." I said, "What kind of momma was this?!"
Patrice: They don't know how to act, so that's why sometimes that's how parents react to their child being hurt. "You put it on yourself," so they could make up for their lack of love or the protection that they should have given you. That's what they do, they say, "Uh, you put it on yourself because you were being fast," because that's how they know to solve their problems.
Shante: What happens too with the parents [pauses] ... they can't protect themselves.
Patrice: They can't protect themselves, how can they protect their child?
Shakeela: In my house, it wasn't talked about. I was getting molested. I was pregnant when I was 15 and I didn't know until I was nine months.
Patrice: I saw my mother getting whupped. It takes a lot out of you. I was beaten with sticks and everything. I was immune to it. I left home and I thought, "If it happened at home, why can't my partner do it?" I used to like to have a man hit me. It's crazy.
"It goes back to us not knowing about the disease. I learned when people I knew had it. It was knocking on our door."
Shante: I've got a sister who was just like her. And I have a brother who wouldn't hit a woman for anything.
Enid (of Positively Aware): There are 30, 40 families on a block. How many do you think were abusive?
[Several individuals]: Abouts every other household.
Stella (outreach worker): You know what I think hinders all of us? We put labels on these people. When you say "mother," there are expectations with that. But honestly, there are some no-good people. If they don't meet those expectations, it hurts us more. That's why I had nothing to do with my mother after a while. I tried, just like you did. I only got back with her when she died, at her funeral, because she was so toxic. When I removed the label that she was my mother and realized that she was just an unhealthy woman, I was able to move on. We have to remove those labels and remove those expectations, and we'll be okay.
Clara: My father was in and out of jail, but he had respect on the streets. My mother was a "ho," and I just wanted to be the opposite. I was car-jacking and robbing homes, and I was selling drugs, but I wasn't selling myself, so that was okay. I used to go with whoever had the biggest guns. The tougher the guy, the bigger the gun, the more I liked him. It was crazy. I started to go to jail when I was 15. One addiction leads to another. I know it's an addiction. You get the same adrenaline from driving [the getaway car] as you get from robbing. It's a power trip. I still have to learn how to calm down.
Parrie: What about your attitudes about people with HIV before you started this study?
Clara: My dad died when I was 14. I was fed up with him. We didn't know he had HIV. We didn't know that HIV made you skinny. He stopped taking his medicine after my grandma died and that's when everybody found out that he had AIDS. He didn't even tell me. I found out from somebody else. I didn't go to him or talk to him and I just feel bad about that now because ... I was so scared that I couldn't get close to him.
Patrice: It goes back to us not knowing about the disease. I learned when people I knew had it. It was knocking on our door, people who lived three blocks away. I asked myself, "Why am I still having unprotected sex when this virus is out here?"
Shante: We had to take health class again. They said there's a new virus out there called [HIV]. I was like, "Does it have something to do with that cancer virus?" I thought they're just going to kill us all! Before I got into the vaccine study, I was like, "How do you know he's got it? Nah, he looks good." [Someone laughs.] I was scared for real. You just look at people. Suppose someone tried to talk to you, you'd be like, "Show me the [test] results."
Then in the projects too, they'd be coming through with the white van, picking up all the people with syphilis and herpes and stuff. That white van comes out and they don't even hide your business. They'd be talking straight out, "Tyrone Walker! Where you at?!" [Everyone laughs.] I was like, "Oh, my god. Who's got something?" That van came to get you, I'm not messing with you. I thought, "Condoms can't help this."
Clara: Yolanda [a former outreach worker who suffered a fatal heart attack a few years ago] helped me when I went to jail, and talked to me about it. And I learned about it in the penitentiary. They had HIV seminars. Some of the people in there -- you couldn't even tell they had it. They looked healthier than me, and happy.
Tinika: I learned from older people on the streets. They said, "Don't sleep around, use condoms."
Patrice: I didn't know about HIV. I just read what I read. They didn't give you any knowledge about HIV. Until we got into the study, that's when I said, "Well, this is not something that I want. I don't want this."
Enid: If you read about it, why do you say you didn't know about it?
[Everyone begins talking at once, wanting to explain.]
Patrice: It didn't tell you what HIV was. And our doctor in our community just said use condoms. So when we were young, when we were told someone had HIV, we didn't want to touch them because we thought that's how we'd get it. When we got in this study, we learned the different ways we could catch HIV, not just through sex.
Parrie: Who did you go to when you had questions? Who was the authority?
Patrice: For real, in the black community, it wasn't even talked about. It was always a secret. If you catch an STD, you don't tell your momma.
Shante: I didn't know you could catch them. I didn't know you could have all of them at the same time.
Shakeela: I was with the father of my kids for 10 years and I didn't know he had it. That was one situation that changed me because ... you live with a man and have unprotected sex. I was lucky not to get it -- I had to wake up.
Parrie: So basically you used your friends?
Shante: Yeah! Not even friends. Enemies. Someone standing outside. "Yeah, you got gonorrhea?" Me, I was going to school. I was going to the library. "Excuse me, what is gonorrhea? What is syphilis? That girl got a rash -- what is that?" They didn't give us a pamphlet. They showed us a banana and put a condom on it and told us to use a condom every single time. They didn't tell us we could die.
Got a comment on this article? Write to us at publications@tpan.com.