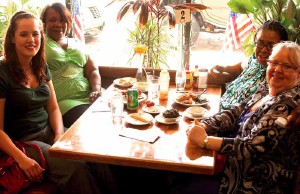 Eat at Edna's: Fiona Lynch, Betty Prevo, Stella Rivers-Goolsby and Parrie Graham gather at a soul food restaurant on Chicago's West Side. Photo: Chris Knight.
I talked with several advocates, including a therapist and a retired nurse, about the influence that negative experiences can have on HIV transmission.
Roller Coaster
After our talk out on the West Side, I hitch a ride downtown with Pat Sloan, a CAB member who's a retired nurse and nursing school professor. An African American woman from Virginia, Pat became impassioned about HIV prevention when she saw the statistics for African Americans. By 1987, HIV was the ninth leading cause of death for both black men and women in the U.S., while it was the 11th leading cause of death for white men. In 1988, it climbed to the sixth leading cause of death for black men (and was 10th for both sexes combined). She added, "But we were silent and in denial -- as too often we are still." In order to help combat the silence and denial, she founded the HIV/AIDS Research & Policy Institute at Chicago State University.
"What they said [in the meeting] about low self-esteem is true," Pat tells me, "but what people don't seem to realize is that self-esteem is not a steady state. You can raise self-esteem, but you have to maintain it. You can be from a happy family and have a good education, but then you get depressed and no longer think you're worth protecting.
"It's drip, drip, drip -- the everyday, mundane stress of racism and other issues," she continues, "but it's also all in how the individual reacts to it. Some slight can pull you back into self-destructive behavior. And sometimes you have to make a change repeatedly before it sticks. What oftentimes happens, unfortunately, is that before a person has had a chance to practice as much as they need to, their family and society have given up on them."
Days later, being the policy wonk that she is, Pat e-mailed me a statement she found on the website of the U.S. Centers for Disease Control and Prevention (CDC), stating that those who experience both sexual and other forms of physical abuse are significantly more likely to have sexually transmitted diseases, including HIV.
She also directed me to the Institute on Domestic Violence in the African American Community (IDVAAC; 877-643-8222). The institute's website says it is "an organization focused on the unique circumstances of African Americans as they face issues related to domestic violence -- including intimate partner violence, child abuse, elder maltreatment, and community violence. IDVAAC's mission is to enhance society's understanding of and ability to end violence in the African American community." It goes on to say that "the 'one-size-fits-all' approach to domestic violence services being provided in mainstream communities would not suffice for African Americans, who disproportionately experience stressors that can create conditions that lead to violence in the home."
Respect
I sat down with Project WISH administrator Parrie Graham, the first executive director of the AIDS Services Foundation in Orange County, California, who's devoted the greater part of her life to advocating for people with HIV, and Fiona Lynch, a young German immigrant who has worked at the Project WISH clinic off-and-on for the past three years as she pursues her master's degree in medical anthropology.
Advertisement
"None of us are self-actualized," says Parrie. The three of us laugh. "We all have our weaknesses and beliefs that put us at risk."
What Parrie sees in community members using the services of Project WISH is a mental disconnect between risk behavior and HIV infection. Drinking, drugging, and having unprotected sex is okay, but people with HIV are seen as "bad." It makes HIV education out in the community difficult, and makes dealing with one's own infection even more so. "We find people with HIV, but getting them into care is nearly impossible," she says. "What gets to me is that all these bad things happen to the women and that's okay. That's seen as normal. But when they get infected with HIV they hide it, because the community says that if you have HIV you're 'bad.' "
"Denial," says Fiona, "and self-preservation. 'If I don't have it, then I'm not a bad person, and if I don't get treatment, I don't have it.' Yet no one judges you for getting the flu, which is also a virus."
"It's that community belief that they're a bad person that makes them work so hard not to see themselves that way," says Parrie. "We have to show some acceptability around risk. We have to say, 'What you're doing can give you HIV, but I don't see you as a bad person.' We've seen this over and over. We can't have a vaccine trial unless we don't judge people. After people are enrolled in a vaccine study, their risk goes right down. When they're seen as valuable human beings, they can then hear the [prevention] messages."
In a Word, It's Stigma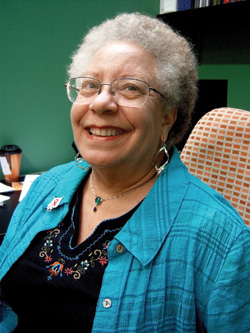 "What people don't seem to realize is that self-esteem is not a steady state. You can raise self-esteem, but you have to maintain it." -- Pat Sloan, founder, Research & Policy Institute Chicago State University. Photo: Rick Guasco.
Fiona points out that studies are also sources of information for the community at large. Participants always say, "I told all my friends [what I learned about HIV]."
"We have to make it part of social interaction," says Fiona, "make talk about sex and HIV neutral -- release the moral component." She attended high school in a Chicago suburb and says she's amazed that in the U.S. there is such reluctance to teaching young people the facts about sex.
Parrie says she came from a drug abusing family and decided early on that it wasn't the way to go. She's fascinated by how people accept or reject the norms -- the paths -- shown to them, and wants to know where those messages come from.
She says the message of a poster from the Illinois Department of Health aimed at black women, "respect yourself," is "absolutely the heart of the matter."
Rewiring
For more information on protecting yourself, when you've grown up with the trauma the young women described, I turned to Jeff Levy, director of Live Oak therapy near Boystown (the gay neighborhood) in Chicago.
Jeff points to his article in the last issue of Positively Aware. "The mind affects the brain, the brain affects the body, and the body affects the mind -- they all impact each other," he tells me.
Although not true for everybody, he says, part of what happens is that many children who grow up with violence, chaos, and trauma develop survival strategies that may be painful and even self-destructive, but which help them manage a difficult situation. "Like the little kid who grows up with an abusive parent and initiates something so he will get hit -- that's a survival strategy because he's taking control over when the violence will occur," says Jeff. "And by initiating it, whether it's physical violence or sexual violence, the anxiety around not knowing when it will occur is lessened. So as a little kid, that's a really, really important survival strategy. As we grow older that may not be as necessary a survival strategy, but we're still using it.
"If you're a little kid and your boundaries are violated again and again," he continues, "you learn that you don't have the ability to protect yourself. So your body may now be 10 times bigger, but the lesson you've internalized is 'I can't protect myself.' "
So you're helpless, I say.
"Well, not literally, because [Jeff pauses to consider how to explain] ... physically you could move your arm and push someone away, but it doesn't feel that way. It doesn't feel like you have that option."
Jeff continues. "And sometimes, the frozen feelings that people had when they were violated as kids are the same frozen feelings that they have in dangerous situations when they're adults. So we physically freeze too."
He says that there's no one explanation for how or why difficult experiences early in life influence adult experiences, but that there's growing evidence of biological effects. Our brain can actually be changed by trauma, and our nervous system altered. "If we live in an environment of constant threats, we're always on high alert," he says. "Our nervous system learns to function in a state of high alert all the time, and that becomes our new normal, and we seek it out. Not consciously, but we seek out certain events and people who, on some level, elicit the same kind of neurophysiological reaction.
"More and more of the research looking at how violence and trauma and chaos affects the developing brain really points to all the neurophysiology behind why we behave the way that we do," Jeff explains. "We get caught in very strong neurophysiologic loops that we can't get out of. If I experienced terror and hopelessness over and over and over again, and that loop gets strengthened over and over and over again, when I get older and experience situations in which I feel afraid again, it activates that same loop. Even though I'm an adult, I don't feel that way.
"So it takes practice," he continues. "We can become aware of our defaults. How do we fall into these old patterns of being and moving out in the world and in relationships? By bringing them to our awareness, then experimenting with new strategies and practicing them over and over again, we can absolutely rewire ourselves in many of the issues we struggle with."
One-on-One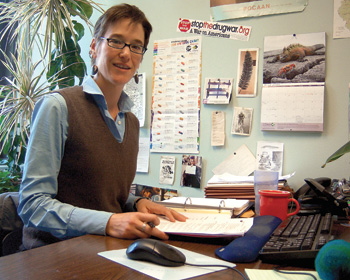 "Not telling their doctor sounds wrong, but when you talk to the women, you find out all the things they're going through." -- Kate Miller, AIDS Legal Council of Chicago. Photo: Rick Guasco.
As a therapist, Jeff Levy works with both individuals and support groups. Parrie, as she mentioned above, says that face-to-face interactions are crucial to HIV prevention.
After my interview with Stella (see "Stella's Journey"), I had lunch scheduled with Parrie and Kate Miller, a paralegal with the AIDS Legal Council of Chicago, who's also a CAB member at Project WISH. Kate told me about the time she worked on qualitative interviews for local HIV specialists and the Department of Children and Family Services. They were trying to figure out why so many women didn't tell their doctor they were HIV-positive at the time of their pregnancy.
Kate said that she became very depressed. "I was reading these intense interviews with 32 women," she said. "Not telling their doctor sounds wrong, but when you talk to the women, you find out all the things they're going through." What they learned was that "because these women were so disrespected in medical care, and in life in general, they were taking care of themselves by not disclosing, because that was one of the few means of protection they had." Some of the trauma they suffered through disclosure -- such as being kicked out of their home or beaten -- came from someone learning their status in a medical setting.
More importantly, the study learned that case managers were the only people the women trusted in a medical setting, the only ones who treated them in a respectful and caring manner. Just having someone say, "Hi, how are you?" was important, especially when there's a lack of simple courtesy and kindness from doctors.
This research confirmed the decision by PACPI (Pediatric AIDS Chicago Prevention Initiative) to hire case managers. "The idea was that engaging women in a respectful manner, building a relationship -- which was shown in the research, that a respectful, caring relationship had been the start of change -- was the way to help women in this situation and therefore decrease mother-to-child transmission," Kate told me.
We need qualitative interviews, Parrie points out, not just statistical information.
"There's no slavery, but we're imprisoned in our mind. You know that saying, 'It takes a village to raise a child'? The village is sick, y'all. A sick village can't raise a child."
Reverend Green
I profiled prison minister Reverend Doris Green last year (November/December 2009) and I quote her here from her talk last year to the Project WISH PCAB about HIV risk.
"Let's talk about our stressors," Rev. Green told the young women. "What can we do as women to protect ourselves? It's not about demonizing the men. How can you understand your relationship stressors and get some control?"
One PCAB member said, "Depression. They're going through something so they don't care. Cancer, HIV -- you have to die of something. It doesn't matter. You need someone to talk to, like this group."
Another said, "Environment. My grandmother raised me and you don't talk about what's going on. I was in there, in and out of the penitentiary. Drug dealing. I still don't care about nothing."
A third young woman said, "People are not assertive enough to say, 'Before we have sex, let's go to this free clinic. Let's go take a test.' The same way we say, 'Let's go get that blunt,' can we say 'Let's go to the clinic'?"
"Why does the man have to talk about sex?" asks Rev. Green. "Why can't we have these candid conversations?"
"If you talk about sex, he'll wonder what's wrong with that cookie," someone responded. "Sex is like gayness," says someone else. "You couldn't talk about it. Now there are gay pride parades."
"Our youth don't feel they're going to live long, so it's like, 'whatever' [they don't care]," says Rev. Green. "Then they see Magic Johnson and they think, 'I can handle it.' The seniors, they have Viagra and think, 'I can't get pregnant.' I am not against sex, but can you say no to sex without a condom? And if we can't, what's going on with us?
"I was quoted in Ebony magazine years ago. They only reported, 'Rev. Green said there's no orgasm in the world worth dying for.' But I said so much more.
"I'm 60 now and I feel a measure of control. But I was once your age and I didn't feel in control. I see my daughter in a series of three-week relationships. When she gets to a month I'm going to think, 'What's going on? Is this real?' She says, 'He's my man.' I wonder, when do you talk about a condom?
"It's going to take funding for our community to provide mental health. And it's going to take a change in attitude to accept mental health. People think, 'I ain't crazy.' But stop and think: if you're doing crazy things like having sex without condoms, that's crazy.
"We have long-term issues related to slavery. But we can start working on [taps her forehead] now. I'm okay with talking about slavery as long as we say all right, now what are we going to do about it? There's no slavery, but we're imprisoned in our mind. You know that saying, 'It takes a village to raise a child'? The village is sick, y'all. A sick village can't raise a child.
"Our mental health, depression, drugs -- what we're doing as a people is not working for us," Rev. Green continued, "and I'm not mad at us. We need that mental health care. We need to talk. My sisters, my aunties, even if they don't talk to us [about sexual health], I'll talk to them. Even if they throw me out, I'm going to talk to them.
"HIV was [first] identified in the gay white community," she said. "Not that it wasn't in our community, but it was identified in the gay white community. Gay men acted up and we need to act up." She looks at a sleeping baby in a stroller. "We have to do it for this baby right here."
To find help in your area, call the National Domestic Violence hotline: 1-800-799-7233.
Resources
WellSpring Center for Hope
P.O. Box 368800
Chicago, IL 60636
phone: 773-723-2119
INCITE! Women of Color Against Violence
INCITE! Women of Color Against Violence is a national activist organization of radical feminists of color advancing a movement to end violence against women of color and their communities through direct action, critical dialogue, and grassroots organizing.
National Organization for Victim Assistance
1730 Park Road NW, Washington, DC 20010
phone: 1-800-879-6682
Rape, Abuse & Incest National Network (RAINN)
2000 L Street NW, Suite 406,
Washington, DC 20036
phone: 1-800-656-4673, ext. 3
National Domestic Violence Hotline
phone: 1-800-799-SAFE (7233)
Chicagoland Domestic Violence Help Line
phone: 1-877-863-6338 (Chicago area)
National Coalition Against Domestic Violence
The Mission of the National Coalition Against Domestic Violence (NCADV) is to organize for collective power by advancing transformative work, thinking and leadership of communities and individuals working to end the violence in our lives.
National Latino Alliance for the Elimination of Domestic Violence (ALIANZA)
700 Fourth St. SW, Albuquerque, NM 87102
phone: 505-224-9080
Sacred Circle
National Resource Center to End Violence Against Native Women
722 Saint Joseph Street, Rapid City, SD 57701
phone: 1-877-733-7623
National Coalition of Anti-Violence Programs
240 W. 35th Street #200, New York, NY 10001
phone: 212-714-1184
Got a comment on this article? Write to us at publications@tpan.com.