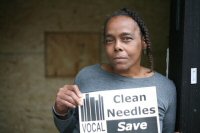 A user for more than three decades, Reeves helped lead a battle to pass New York's syringe access bill.
It's a storyline we don't hear often: Drug users, empowered, lobby politicians and create change.
This is exactly, however, what happened this summer. When a state syringe access bill passed this July, it was a victory achieved not only by HIV/AIDS activists, but also by those who so infrequently play a role in shaping the policies that affect them: Drug users themselves.
How did this happen? United under the umbrella of the VOCAL-NY Users Union, a coalition of substance users and their allies, a growing number of users are asserting that they, too, have rights.
A Leader Shatters Perceptions
Jill Reeves, 50, was at the front line of the battle. She enjoys challenging clichéd notions of drug users: She's homeless, and has been using heroin since age 16. But eloquent and assertive, she's also a published poet, worked as a ghostwriter for political figures, and once ran for town council in Heightstown, N.J.
Advertisement
Two years ago, she stepped into the wood-paneled office of the New York City AIDS Housing Network in Boerum Hill and asked for a set of clean needles. She was doing what the New York public health code asked -- no, begged -- her to do: Inject in the safest way possible by participating in a legal syringe exchange program.
But when she left, two police officers approached. They threw her bag to the sidewalk, and upon discovering the needles, arrested her. They refused to view the small white card that identified her as a harm reduction participant and therefore in legal possession of the needles.
She spent the next 36 hours in jail, in painful heroin withdrawal. When she emerged, she swore she'd never again participate in a needle exchange program.
At the same time, though, she made it her mission to change the contradictory New York State laws that encouraged her to participate in needle exchange programs -- and then incarcerated her for doing so.
With other VOCAL members, she began lobbying politicians in Albany, visiting the capital more than a dozen times. She trooped down to Washington, D.C. on at least three occasions. And she started stopping officers on the sidewalk in Brooklyn to ask if they were aware of New York State public health code that permitted drug users to carry needles.
"I remember changing minds," she said, of walking into politicians offices to plead for them to sign on to the bill. "I feel that as one person, I'm making a difference, I'm saving lives."
In the past 20 years, she's lost more than two dozen friends to AIDS. "I felt like I'd cheated death, and I needed to do something," she said.
Change After 20 Years of Contradiction
It was this user-to-politician approach that eventually passed the bill, according to Tracie Gardner, director of New York State policy at the Legal Action Center. (As well, she said, as the ever-mounting body of evidence that syringe exchange programs are paramount to preventing the spread of HIV and hepatitis C among drug users).
A New York State bills that proposed decriminalizing needle possession was introduced as early as 2006, according to Gardner. But only in the past year, thanks to a concerted effort by users, has success been possible. Visits to politicial offices, "really smashed the perceptions of policymakers of who users were and what someone who is an active user is entitled to," she said.
For more than twenty years, the state's public health code promoted syringe exchange programs, recognizing their role in preventing the spread of disease. The state's penal code, however, was never updated to reflect this. For decades, the New York City police department has been throwing drug users into jail for participating in the very programs the state espouses. The New York City AIDS Housing Network recently released a study that reports on the negative public health impact of those conflicting policies.
The new law clarifies that the possession of needles acquired through public health programs does not violate the state paraphernalia law. It also clarifies that the possession of used needles with drug residue does not constitute possession of a controlled substance. Perhaps most importantly, it mandates the education of law enforcement and prosecutors about these public health protections.
"Now it's about education to make this effective," said Reeves. "And if I have to talk to each officer, one at a time about this law, I'm willing to do that."