Lynda Arnold: Get Outta My Head, You Crazy Virus!
"There was a time when I fought publicly and proudly," writes 20-year HIV survivor Lynda Arnold. But for more than a dozen years, she took a break from activism to just live. Now she's back -- to share her history, family life, and current struggles with AIDS dementia.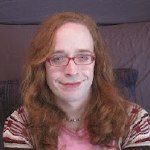 Devarah "Dee" Borrego: How to Talk Trans
"I see so many of my trans sisters in the U.S. and around the world being severely impacted by HIV and by ignorance," Dee Borrego writes. That's why she speaks out and shares knowledge from her own experiences as a young transgender woman living with HIV.
Since her HIV diagnosis, Nina J. Bri has been learning all she can about HIV -- but attending her first conference led her to dedicate herself to fighting the epidemic. Still, this decorated activist's great joy and honor is being "mommy" to her son.
A full-blooded Native American, mother of three, long-term AIDS survivor, HIV advocate and proponent of complementary therapies in addition to HIV meds, Shana's got a unique take on a variety of topics -- from health and parenting, to grief and death, to love and relationships.
Brooke was diagnosed HIV positive in January 2010 -- two months married and 11 weeks pregnant with her first baby -- and has already begun to educate others about HIV.
"This blog features the randomness of my psyche, realities of living with HIV, things I find interesting and the afrocentricity of me," writes Ria Denise. Ria tested HIV positive in 2004; now she's ready to let her voice be heard. "Welcome to my rediscovery."
Teniecka Drake: Enough Negativity!
Since her HIV diagnosis in 2001 -- and her marriage, and the recent births of her three children -- Teniecka really has been taking life for more fun! She blogs to encourage other HIV-positive people in times when they might need a boost.
Ellisya: Live Life Like You Were Dying
"In a world that's full of ignorant people," says Ellisya, "life is about fighting and fighting all the time." An orphan and rape survivor, Ellisya became a mom on her own at 16; at 21, she and her daughter tested HIV positive. "I am here to share about my life ... hoping that everyone can learn from my real life experience."
Catherine Hanssens, Esq.: HIV Law & Policy
Catherine Hanssens has been active in HIV legal and policy issues since 1984. She is the executive director of the Center for HIV Law and Policy, the first national legal resource and strategy center for people with HIV and their advocates.
River Huston: A River Runs Through It
There are few things River hasn't done -- from being a dominatrix, to painting and writing books, to traveling the world performing her one-woman show. She's got a list of things to accomplish before she dies -- which after more than 20 years living with HIV is clearly not going to be soon -- and she's clicking them off one by one.
Rev. Andrena Ingram: Is the Ribbon Enough?
"With all that I have been, and all that I am, I am not fake," writes Philadelphia-based pastor Rev. Andrena Ingram -- mother of three, addict in recovery, anti-stigma activist and longtime HIV survivor. "I speak my mind. I don't pretend to be 'holier than thou.' … Heck, I may even let fly a few cuss words every now and then!"
Sherri Beachfront Lewis: HIV DIVA
Twenty-five-year HIV survivor, pop star and constant diva Sherri Beachfront Lewis sure does get around town! Whether she's filming an HIV/AIDS community event, writing about appearing on CNN or sharing her love of good food, this "straight girl in a queer world" knows how to live -- and tell about it.
Rae Lewis-Thornton: Rae Lewis-Thornton Speaks
Rae was the first African-American woman living with HIV/AIDS to tell her story on the cover of a national publication. Since then, she's spent nearly two decades sharing her life, unique style, hopes, dreams, and disappointments with a worldwide audience through interviews, ministry, public speaking and, most recently, social media.
Elizabeth Lombino: Spread Hope: A Therapist's Guide to Living and Laughing With HIV/AIDS
Longtime social worker and HIV advocate Elizabeth writes: "Living with HIV/AIDS can be a daily struggle with many unique challenges. My goal with this blog is to provide a sort of cyber therapy space for you to learn some skills and tools to better cope with these challenges."
Magnetic Mama: Magnetic Matrimony -- My Journey as Part of a Serodiscordant Couple
A 27-year-old psychologist and the uninfected half of a magnetic couple (i.e., her husband is HIV positive), Magnetic Mama recently took time off to travel the globe, meeting magnetic couples wherever she goes -- and she tells readers all about it.
Maria T. Mejia: Time to Show My Face and Take the Stigma Away
When Maria was diagnosed with HIV at 18, her mother said: "You will not die from this, but you will tell the family you have another disease." Now, after years of silence, this Miami resident is more than ready to open up to the world about living with HIV.
Rusti Miller-Hill: Advocacy Outside the Walls
Rusti began her HIV/AIDs advocacy in the early 1990s, as a peer educator in the prison where she herself was incarcerated. Now this mother, grandmother, wife and long-term survivor fights for incarcerated women's health from outside the walls.
Candace Y. A. Montague: D.C. HIV/AIDS Examiner
Washington, D.C., native Candace is fed up with HIV/AIDS in her hometown. So she's using her master's degree in Community Health Education and her love for writing to sound the alarm.
For activist and Eastern Canada resident Aless Piper, HIV/AIDS entered her life in the form of a grade-six school project -- and an HIV-positive man nearly three times her age who became a lifelong friend.
Autumn Preusser: The First Few Months -- A Transgender Woman Faces an HIV Diagnosis in the Rural U.S.
On Dec. 10, 2010, Autumn Preusser found out she was HIV positive. Almost immediately, she began channeling her feelings into a blog she created on Blogspot. The result is reposted here in its entirety. It's an honest, detailed chronicle of an experience all HIV-positive people share, and each person goes through in her or his own way: the first few months of learning to live with HIV.
Loreen Willenberg: Life as an Elite Controller
Loreen has been living with HIV since 1992 -- and has never had a detectable viral load. She's an "elite controller" -- one of a tiny percentage of HIVers whose bodies control HIV in different ways without HIV meds. Loreen has devoted her life to finding others like her and getting them involved in research studies that could lead to a cure for HIV, and she shares her vast knowledge of this research through her blog.
Jeannie Wraight: Hints and Allegations
Profound identification with the pain of others was what first drove Jeannie Wraight to the numbing effects of heroin abuse. Since her HIV diagnosis in 1995, Jeannie has found a new way to apply her empathy: as a passionate international HIV treatment activist.
Betsy Yung: My Evil Hitchhiker
"[HIV] hopped on and began his nasty business in about the year 2000," writes Betsy Yung, who describes herself as "just your average, hard-working, middle-aged lady living with AIDS." "He never showed himself until I was laying in the hospital on life support ... in July of 2010."
More From This Resource Center
---