The past few years have brought major advances in the treatment and management of people with HIV. In many of the early trials for HIV-positive people, different blood markers were studied to determine whether they might be beneficial in monitoring the health of people with HIV and whether they might be able to predict the risk of disease progression. Many were deemed not useful including beta-2 microglobulin, neopterin and p24 antigen. Others have become part of routine standard of care including CD4+ cell counts, viral load (HIV RNA levels) monitoring and resistance testing. Many other blood markers are still being evaluated although the next major advance is likely to come from the field of pharmacology and specifically, therapeutic drug monitoring (TDM). Pharmacology is the study of how drugs are absorbed, broken down (metabolized) and eliminated in the body. TDM monitors the level of various drugs in the bloodstream.
The goal of TDM is to ensure that there are adequate drug levels in the body to effectively block HIV from reproducing. TDM involves drawing a blood sample to measure the amount of a particular drug in the blood [notably protease inhibitor and/or non-nucleoside reverse transcriptase inhibitor (NNRTI)]. Most experts believe that measuring the levels of the nucleoside reverse transcriptase inhibitors (NRTIs), like AZT, will be of little value as these drugs block HIV replication inside the cell and the levels found in blood may not necessarily correlate with those inside the cell.
TDM may be particularly useful for the protease inhibitors as drug levels can vary greatly between individuals since there are differences in how people's bodies break down and use these drugs. Ensuring that people are within a "therapeutic range" -- a range where we know the drug works and which doesn't cause excessive side effects -- may significantly increase the likelihood of a durable response and may decrease risks of side effects. TDM makes it possible to adjust the dose to meet the needs of a particular person. Weight, sex, stage of HIV disease, hepatitis co-infection and presence of liver/kidney dysfunction may all affect the need for a dose adjustment of a drug for an individual. Today, we simply give a single dose calculated to work in the "average" person. For some people, this "average" dose may be excessive, while for others it may be insufficient.
The "therapeutic range" may be different for someone starting anti-HIV therapies for the first time than for someone who has previously taken different drugs and may have developed some degree of resistance to them. It may be necessary for people with drug-resistant virus to achieve higher drug levels in order to "overcome" the resistant virus. This might be achieved by taking higher doses of a given drug or through the use of a boosting drug like ritonavir (Norvir).
Advertisement
There are a few hurdles that still have to be overcome before TDM can be used as part of routine care. One area of concern is the accuracy of the tests themselves.
Perhaps the bigger hurdle is determining the appropriate time to draw the blood sample to be used in detecting drug levels. Different people taking the same drug will have a different pattern in how the drug gets absorbed and eliminated from the body. Soon after a dose of the drug is taken, the maximum level of the drug, or Cmax as it is commonly known, can be found in blood. Most researchers believe that the higher the Cmax level, the more likely someone will experience side effects. Over time, the drug level gradually decreases, eventually reaching a minimal level called the Cmin. When this level is reached, the next dose of the drug must be taken to raise the blood level. If the Cmin falls below the amount needed to fully suppress HIV replication, the risk of drug resistance increases. The lower the Cmin level, the more likely resistance to the drug will develop.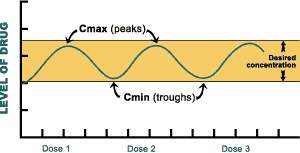 For anti-HIV drugs, the Cmin level is probably the most important factor when looking at anti-HIV response, so people would need to have their blood drawn right before they take their next scheduled dose. In practice this will be very difficult to do. The more likely scenario is that people will be coming in for blood draws whenever they can get a appointment at the laboratory or at their doctor's office and this may not be right before their next scheduled dose of their drug regimen.
Preliminary results from the ATHENA study supports the use of TDM. This study included 600 people, half of whom had not previously been on anti-HIV therapies. Half of the participants received TDM in addition to standard monitoring (CD4+ cell counts, viral load, etc.) while the other half only received standard monitoring. Results were reported only for people who had not previously received anti-HIV therapies and started on either nelfinavir (Viracept) or indinavir (Crixivan). Results on participants starting on other anti-HIV therapies and people who had previously been on anti-HIV therapies are forthcoming.
Fifty-five people started indinavir as their first-line regimen, with about equal numbers taking standard dose indinavir (800mg every eight hours) and two different doses of indinavir + ritonavir (800mg indinavir and 100mg ritonavir twice a day or 400mg indinavir and 400mg ritonavir also taken twice a day). After a year of the study, there was a trend suggesting that fewer people receiving TDM had to discontinue their therapy, primarily due to side effects. Additionally significantly more people receiving TDM achieved viral loads below 500 copies/mL after twelve months of the study.
The results for the group taking nelfinavir were slightly different. Ninety-two people took nelfinavir as first-line therapy in this study. Significantly fewer people receiving TDM discontinued therapy compared to the non-TDM group, but this was almost entirely due to fewer people experiencing virologic failure (rebound in viral load) rather than due to side effects as seen among people taking indinavir. As a result significantly more people receiving TDM achieved viral loads below 500 copies/mL after twelve months of the study than those not receiving TDM.
Additional information from this study is forthcoming including results from people who had previously been on anti-HIV therapies as well as more specific information about who were more likely to require dose adjustments based on gender, weight or other factors.
Drug Levels Inside Cells (Intracellular)
Another possible complicating factor about TDM is the recent finding of protease inhibitor levels inside cells, similar to what has been seen with NRTIs. To date, nobody has shown a connection between protease inhibitor levels inside cells and the anti-HIV effect of the drugs, but studies are now being done to examine this question. It is also not known if there's a connection between protease inhibitor levels found in blood to those found inside cells.
Human cells have certain genes called P-glycoprotein (P-gp) and multi-drug resistant proteins (MRPs). They control what substances, including drugs, can get into cells and how quickly they're expelled in order to protect the cells from toxic effects.
It's still not clear what role these genes play in the overall effectiveness of anti-HIV therapy, although it is thought they factor in how well drugs are absorbed and how efficiently they get into certain parts of the body, like the brain. These genes already play a major role in the effectiveness of therapies for other diseases. For instance, a high expression of these genes has been shown to make cancer cells more resistant to traditional drugs.
Drug Interactions
Many anti-HIV drugs and the therapies used to prevent or treat opportunistic infections are metabolized by the same enzymes in the body. This means that there are many possible drug interactions. As a result, it is very important to talk about this issue with your doctor or pharmacist, especially when using drugs to prevent opportunistic infections. Your doctor, as well as your pharmacist, should be aware of all the meds you're taking, including over-the-counter herbs and vitamins. More information on drug interactions is available through Project Inform's Hotline.
One of the most discussed issues on drug interactions in the past few years has been using ritonavir to boost the levels of other protease inhibitors. This approach can result in less frequent dosing and a reduced daily dose. This is achieved in one of two ways: A) ritonavir can greatly increase the Cmax (maximum level) of lopinavir and saquinavir in the blood without significantly changing the rate at which the other drug is eliminated from the body, or B) ritonavir can slow down the rate indinavir and amprenavir are eliminated from the body without greatly changing the Cmax.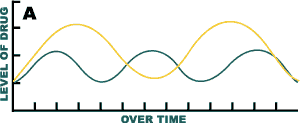 Dark line -- lopinavir or saquinavir taken alone
Gold line -- results when taking drug with ritonavir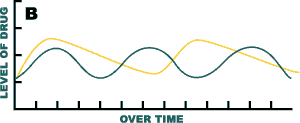 Dark line -- indinavir, nelfinavir or amprenavir taken alone
Gold line -- results when taking drug with ritonavir

Early results suggest that ritonavir is able to boost the levels of two protease inhibitors at the same time, indicating that this may possibly be a useful strategy for third line therapy.
Boosting drug levels, however, may make interpreting resistance results more challenging because the higher drug levels may "overpower" some of the drug-resistant viruses. Currently, most people consider a four-times decrease in sensitivity to a drug to mean low-level resistance while anything over a ten-times decrease means high-level resistance. This is generally considered acceptable because blood levels of a drug are usually only four to eight times higher than what is simply needed to block HIV from reproducing.
However, ritonavir boosts the drug levels of some protease inhibitors upward of fifteen times or higher and so these standard four to ten times reductions used as indicators on resistance tests may become irrelevant. In other words, you may "overpower" some of these resistant viruses by using ritonavir and another protease inhibitor even though your test results indicate you may be resistant to one or more of these drugs. As a result, it may be important for your doctor to factor in drug levels and the levels of reduced drug sensitivity when evaluating results from your tests. For more information on resistance tests, call Project Inform's Hotline and ask for the document called HIV Drug Resistance Tests.
Protein Binding
It is widely known that anti-HIV drugs get bound to certain proteins in the body, which results in decreased anti-HIV activity. In some cases, this has resulted in the drug being pulled from development because it lost almost all of its activity. The more a drug is bound to these proteins, the greater the loss in anti-HIV activity.
The amount of these proteins is:
higher in HIV-positive than HIV-negative individuals;
lower among people with cirrhosis (a liver disease caused by the loss of functioning liver cells) as the liver produces these proteins;
higher during periods of inflammation; and
different between genders and among ethnicities.
What makes this even more confusing is that tests measuring drug levels in the blood do not always reflect the effects of protein binding. Thus, a therapeutic drug monitoring test may indicate there is an adequate level of drug in the blood stream, but in fact not all of the drug is actually available to do its job. This has been an area of intense debate among the pharmaceutical companies developing drugs because you can get very different results on anti-HIV activity depending on the amount of protein used in their lab experiments. As a result, each company claims that its drugs, at least in their labs, are more active against HIV compared to their competitors.
Commentary
There is a strong likelihood that future advances in the field of pharmacology can result in significant improvements in the care of people living with HIV by optimizing the dose of anti-HIV therapies as well as reducing the risk for certain side effects. TDM is likely to provide another useful piece of information, along with CD4+ cell counts, viral load and resistance testing, that can help in assessing the effectiveness of an anti-HIV regimen. However, there are still several issues that have to be worked out before this test can be used as part of routine care. Moreover, the level of benefits provided by TDM must be weighed against the costs and complexity of additional testing.

Back to the Project Inform Perspective August 2001 contents page.