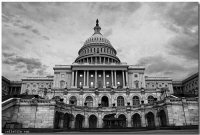 Congress rips funds from food stamps.
The $26 million in state aid granted by the Federal government yesterday is definitely going to help some poor New Yorkers. The shameful part is that Congress has decided to save our states by ripping funds from the nation's food stamp program.
First, the good news. Tuesday's vote will bring $600 million to the Big Apple -- $400 million in desperately needed assistance to the city's Medicaid program and $200 million in education dollars. That's $600 million that Mayor Bloomberg has indicated will prevent further annihilation of programs and services this year.
Advertisement
In the short-term, the vote will help low-income folks in the city. In recent years, the federal government has matched state contributions to Medicaid funding at a higher-than-usual percentage. This enhanced federal contribution was scheduled to expire at the end of 2010, and New York City politicians had waited anxiously for months to hear whether Congress would fund an extension.
Nationwide, Congress' slowness in passing the extension for the Medicaid money had thrown many states into panic, forcing them to make drastic cuts to key support programs, housing and services for people with HIV/AIDS, including state AIDS Drug Assistance Programs.
The bill passage will hopefully allow some states to restore services -- or at the very least prevent total elimination of programs for people suffering in the midst of a recession.
Now, the bad. Congress pushed the state aid bill through by agreeing to reverse an increase in the Supplemental Nutrition Assistance Program, snipping $11.9 billion from the program. As Kati Haycock reports in the Huffington Post, beginning in 2014, U.S. citizens on food stamps -- that's 40 million people -- will see $59 disappear from their monthly food budgets. Once again, Republican votes were garnered by sacrificing services for low-income people across the nation.
Writes Haycock, "The families and individuals who depend on food stamps are our nation's most vulnerable. They tend to be the young, the old, the black, and the brown ... And despite cold, inside-the-Beltway rationalizations that food prices have not risen as steeply as had been anticipated -- and that this cut will 'just' return benefits to pre-2009 levels -- I challenge any who support it to feed their own children on $4.50 a day. That's the average per-person benefit now, before the Senate cut takes effect."
Yes, as HIV/AIDS advocates, we're glad the Federal government is helping cities and states pay for their Medicaid programs. It's embarrassing, however, to call this a victory for those in need.