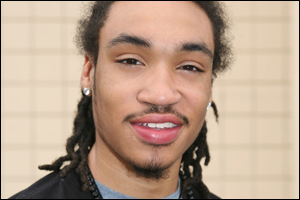 Communicating with people is not always easy, but it is essential to building strong relationships. I feel that members of the Black community have a responsibility to break the ice and make it comfortable for their friends and family to speak about HIV and AIDS. In the black community we don't talk enough about the epidemic. This has become a very serious topic that people know very little about. Lack of knowledge and fear help spread falsehoods and stigmas within our community. People have to face the reality that this epidemic is here and we can't hide from it. We have to work together if we're going to overcome HIV and AIDS, which means we have to make it ok to talk about it and support one another in learning more about the epidemic. That has been my mission since the beginning of this internship, and I plan on fulfilling that commitment, by speaking out to my friends and family about the impact of HIV/AIDS on the Black community.
Recently the Black AIDS Institute's staff and interns went on a trip to Six Flags. It was more like a family outing. We enjoyed each others company and we came together and had a great time. It made me realize that when you have support and people in your corner, you feel more comfortable in your own skin and it easier to communicate with others. HIV/AIDS is a scary topic but it doesn't have to be, we can make it easier and less stressful to talk about. We can make people feel comfortable with who they are. If people are afraid to talk about HIV/AIDS then they are afraid to get tested, which means they don't know their status. Making it ok to talk about HIV and AIDS is making it ok to be who you are, save lives, and protect your community. Maybe the first step is talking your sister while she braids your hair or talking to your brother after a game of basketball. It doesn't matter what your approach is as long as you make the first move, and let your love ones know it's ok to talk about this. We need to come together as one and break the silence around this epidemic because our lives are depending on it.
Quinton Law will begin his freshman year of college this fall.
(Please note: Your name and comment will be public, and may even show up in
Internet search results. Be careful when providing personal information! Before
adding your comment, please
read TheBody.com's Comment Policy
.)