Table of Contents
Introduction
Cause
Diagnosis
Treatment
Chart for Treating Candidiasis
Side Effects and Drug Interactions
Anti-Fungal Drugs and Pregnancy
Kids and Candidiasis
Prevention
Treating and Preventing Fungal Infections Naturally
Conclusion
Introduction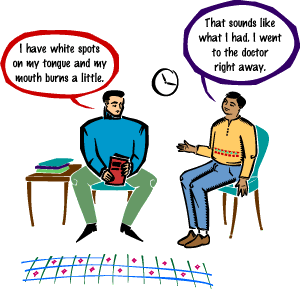 Oral candidiasis, which is also called thrush, is a fungal infection of the mouth and/or throat. Candidiasis of the throat is called esophageal candidiasis (see chart).
While oral candidiasis can sometimes occur without symptoms, the most common symptoms are discomfort and burning of the mouth and throat and an altered sense of taste (often described as "bad"). Creamy white or yellowish spots on the mouth and throat that can be removed by light scraping are also common. These may be accompanied by cracking, redness, soreness and swelling at the corners of the mouth. A bad case can include mouth sores.
Oral candidiasis is rare if CD4+ cell counts are above 500. Outbreaks are more common as the count drops to 100. Oral candidiasis may be more difficult to treat when CD4+ cell counts fall below 50.